DuckTales is back! In 2015, Disney announced a reboot for the show and it premieres this coming summer in 2017. Y
ou can catch the new show on the network Disney XD. This late 80s classic featured Uncle Scrooge and his three nephews Huey, Dewey and Louie and all of their adventures. 80s and 90s children alike remember this show fondly as adventure filled entertainment so good they didn't want to miss a moment.
What is DuckTales?
Whether digging for gold in Alaska or Scrooge getting amnesia, there always seems to be some misadventure that ensues. The reboot will be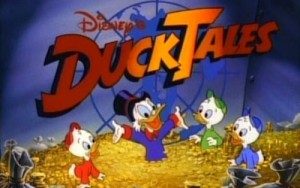 shown in the 2D animation of the original. However, it will follow closely to the comic with Donald Duck holding more of a prominent role in the show. Other throwbacks include Uncle Scrooge's coat, which is red and therefore reminiscent of the comic, rather than the cartoon (in which it was blue).
New voices  include Danny Pudi (Huey), Ben Schwartz (Dewey) and Bobby Moynihan (Louie). Coming along for the adventure will be David Tennant as the cranky Uncle Scrooge McDuck. And Beck Bennett will be voicing Launchpad McQuack with Kate Micucci as Webby Vanderquack. The best part about the cast? The network's release refers to the cast as a group of "top-billed" actors, a perfect (duck) pun if there ever was one.
And what about the 80s original? Are you missing the show you know and love? Amazon and Hulu stream episodes so that you can rewatch DuckTales whenever you see fit.
Lots of shows are coming back
The DuckTales revival follows a trend where old shows have been brought back sometimes in new forms or sometimes just as they were. Network television has revived a number of series (though not always successfully) while Netflix has brought back Full House for Fuller House, a spin-off while it offered new episodes of Gilmore Girls.