Whether you watched it or not, everyone remembers the iconic imagery of the late-80s/early-90s show, Baywatch.
Filled with skin, sun and surf, the show thrived on high adrenaline situations and the people who took care of them. Baywatch was cast in a time of innocence and brought a sort of happy romanticism to the beach. People lounged under the sun, got along (for the most part) and there little deaths on the show. Considering the premise of Baywatch lifeguards was saving lives, very few slipped through the fingers of the crew.
It's hard to deny the popularity of the show in 1989. Baywatch was a hit to many — literally one of the biggest shows around the world. Though some reviews bash the show, everything from bad acting to unrealistic situations, the show was in fact talked about, hyped up, successful and well watched. Baywatch boasted good looking people and likable story lines kept fans watching for over a decade.
The concept had many spin offs including Baywatch Nights, a TV series and Baywatch Hawaiian Wedding, a TV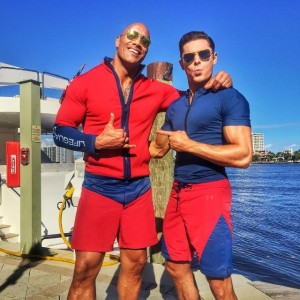 movie and two 90s videos, Baywatch: White Thunder at Glacier Bay and Baywatch: Forbidden Paradise. It's been over a decade since we've seen anything "Baywatch" but that trend stops now.
Baywatch is back
Come 2017, a brand new version Baywatch
will hit the big screens!. This comedy is full of the expected, hot bods, hot action and in a hot location. With Dwayne Johnson as Mitch Buchanan and Zac Efron as Matt Brody, the new cast is primed for some CA beach action.