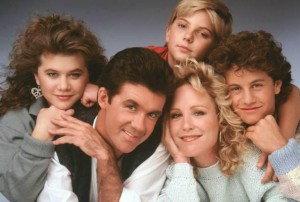 Sadly, Alan Thicke,  another beloved actor from the 80s has died as 2016 comes to a close.
According to TMZ, the sixty-nine-year-old actor suffered a massive heart attack while playing hockey—one of his passions—with his son, Carter. He was taken to Providence St. Joseph's Medical Center around noon, where he was pronounced dead.
The Canadian born actor was perhaps most famous for portraying Jason Seaver, the psychiatrist dad on Growing Pains in the 80s. You may also remember his short-lived 80s late night show, Thicke of the Night. A true renaissance man, Mr. Thicke was also an author and songwriter. He composed the memorable theme songs for classic shows including Diff'rent Strokes, The Facts of Life and Wheel of Fortune.
Today's generation may know Alan Thicke from his recent appearances on Netflix's Fuller House, or as the proud father of singer Robin Thicke.
Along with Robin, he is survived by his two other sons, Carter and Brennan—and his wife, Tanya.
Soap actress Gloria Loring, who was married to Thicke from 1970 to 1983, called Thicke's death "a shock" on Facebook Tuesday. "We were all just together for Thanksgiving. He was talented, funny and deeply devoted to his family," Loring wrote.