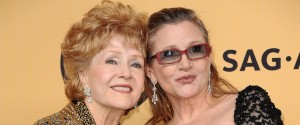 Yet another of our beloved pop icons has died way before her time, as 2016 finally comes to its melancholy end. Carrie Fisher, best known as Star Wars' Princess Leia, has died after suffering a heart attack. She was 60.
According to People Magazine, the family's spokesman released a statement on behalf of Fisher's daughter, Billie Lourd:
"It is with a very deep sadness that Billie Lourd confirms that her beloved mother Carrie Fisher passed away at 8:55 this morning…She was loved by the world and she will be missed profoundly. Our entire family thanks you for your thoughts and prayers."
Carrir Fisher was on a transatlantic flight, from London to Los Angeles on Friday, Dec. 23, when she went into cardiac arrest. Upon arrival in LA, paramedics rushed her to a nearby hospital, where they treated her for a heart attack. She died days later in the hospital.
Carrie Fisher, a real-life Hollywood princess
Fisher was considered Hollywood royalty, as the daughter of movie star Debbie Reynolds and crooner Eddie Fisher. Her upbringing has been described as sometimes tumultuous. Her adult life was no smooth sailing either, for she battled drug abuse and mental illness throughout her rocky career. Most of this is covered in the 1990 cult movie Postcards from the Edge, based on Fisher's best-selling book.
A return to Star Wars
The actress became an instant movie star and pop icon when Star Wars came out in 1977. Her other film roles include 1980's The Blues Brothers, The Man with One Red Shoe, Woody Allen's Hannah and Her Sisters in 1986 and, later, When Harry Met Sally. And, of course, she reprised her role of Princess Leia, to much hype, last year in The Force Awakens.
Fisher said this about reprising Leia:
 "I knew that something enormous was likely going to impact my life from this film and that there was absolutely no way of understanding what that was or was likely to be."
The Force Awakens brought Fisher back into the spotlight, and earned her a best supporting actress nomination for a 2016 Saturn Award.
An activist for mental health
In 1985, Fisher was diagnosed with bipolar disorder, and subsequently became an outspoken advocate for mental health awareness.
Aside from being the go-to person in Hollywood to anonymously punch up movie scripts with her wit, Carrie enjoyed a career as a best-selling author. Controversial to the very end, Carrie revealed her surprising on-set affair with Star Wars costar Harrison Ford in her new book The Princess Diarist.
She is survived by her mom Reynolds, daughter Lourd and beloved French bulldog,