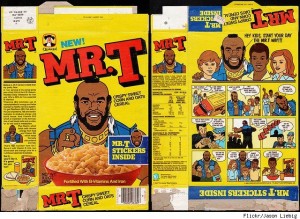 Mr. T Cereal
is like so totally 80s that it could have very well been on the menu of The Cafe 80's in Back to the Future II. The best part is that you can still buy Mr. T Cereal
collectables today.
Who is Mr. T and Why Did He Have a Cereal?
If you weren't around in the 80s, or lived under a pet rock, you are probably asking yourself: who is Mr. T and why did he have a cereal? Good question.
Mr. T was a pop icon phenomenon who could have only existed in the crazy 80s. The "T" was for Tureaud, his surname. Born in 1952, Lawrence was a professional wrestler turned actor. He rose to fame playing B.A. Baracus in the hit TV show, The A-Team. And who could forget him as boxer Clubber Lang in Rocky III.
However, it was his bigger-than-live, signature look and his catch phrase that made him an instant pop icon. Some people called his unique haircut a Mohawk, but it was in actuality an African Mandinka warrior hairstyle. Usually clad in a tight tank top, Laurence accessorized with gaudy gold chains and other jewelry. In an age of catch phrases, his catch phrase went viral with kids before the term "going viral" was even coined. "I pity the fool" was likewise uttered by trendy adults everywhere.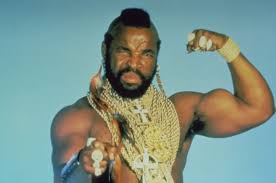 So What Did Mr. T Cereal Taste Like?
The Quaker Oats Company jumped on Mr. T's
popularity by giving him his own breakfast cereal. Packaged in a cartoony box with T's likeness on it, the letter "T" shaped cereal was made from corn, oats and LOTS of sugar. In all fairness, they were fortifies with iron and vitamins too. So what did it taste like? Well, to tell you the truth, it pretty much tasted like Captain Crunch—but the T's were way cool to eat. The heavily marketed cereal came out in 84 with the slogan, "I pity the fool who don't eat my cereal"
Even Pee Wee Herman Got into the Act
Mr. T Cereal appeared in the film Pee Wee's Big Adventure, so even Pee Wee Herman got into the act. In the scene, Pee Wee Herman holds a box of the cereal and says, in his best Mr. T, "I pity the poor fool that don't eat my cereal." Then Pee Wee opens the box and pours the cereal over a dish of eggs and pancakes. They just don't make movies like that anymore.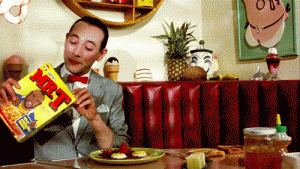 Mr. T Cereal Collectables are Still Available Today
That's right. Mr. T
Cereal collectables are still available today. They range from bitchin' t-shirts
, to refrigerator magnets, to the Mr. T stickers that came inside the cereal boxes (way way at the bottom). Serious collectors proudly display unopened Mr. T. Cereal boxes with the cereal still in them. I pity the fool who would eat cereal boxed over 30 years ago.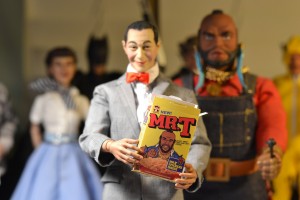 So where can you get your hands on these collectables? Duh, on Amazon
, of course. (Someday you'll be able to buy a spare kidney on Amazon…delivered by a drone.) Ebay has some cool stuff too. And check out this gnarly retro commercial for the product.