Boy George may be the next Celebrity Apprentice.
That sounds preposterous, but I'm afraid that it's true. NBC recently announced the cast of 2017's Celebrity Apprentice, and the 80s pop icon will be among the 16 "celebrities" who will scratch and claw their way to the top—competing for their favorite charities. If that's not surreal enough, "The Governator," Arnold Schwarzenegger himself, will be filling in for the former Apprentice boss, while he carries out more important duties…like tweeting 24/7.
Quite a Mötley Crüe
Joining Boy George in Los Angeles for the show's eighth season will be Carnie Wilson of "Wilson Phillips" fame, SNL's Jon Lovitz, Nicole "Snooki" Polizzi, and Mötley Crüe's front man Vince Neil. Those are really the only names that I recognized—in addition to fashion guru Carson Kressley, of course. Also joining them in the boardroom will be Laila Ali, Brooke Burke-Charvet, Eric Dickerson, Matt Iseman, Carrie Keagan, Lisa Leslie, Kyle Richards, Chael Sonnen, Porsha Williams, and Ricky Williams.
Boardroom Meltdowns and Running Mascara
Trump Tower is a tad busy these days, so Celebrity Apprentice moved its headquarters to a new, state-of-the-art location in Silicon Beach, Southern California; a fast-growing technology nerve-center. There, they will test their ability to work together as a team, while raising money and awareness for their favorite causes. Each episode promises to be chockfull of boardroom meltdowns, running mascara (on the men too), and Schwarzenegger catch phrases. You know he will utter "I'll be back" somewhere in the first show.
The producers promise that,
"Each episode will conclude with a compelling Boardroom showdown, as Schwarzenegger evaluates the performances of all of the players before deciding which team wins the challenge and who will be sent home."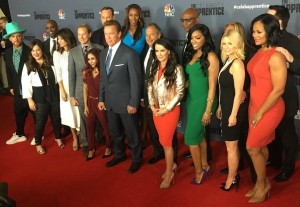 Boy George Seemed Healthy and Happy — Not to Mention Clean & Sober
If you follow an 80s blog, and you do, then you must know just how famous Boy George and Culture Club were in their time. From "Do You Really Want to Hurt Me" to "Karma Chameleon," their music constantly played on the radio, in most discos and on jukeboxes everywhere. (Remember jukeboxes? I miss them.) Aside from the catchy music, Boy George's flamboyant appearance and outrageous demeanor contributed to their iconic status.
Boy George, aka George Alan O'Dowd, has had a tumultuous time of it since leaving the band. Aside from heroin addiction and financial troubles, he served some time for allegedly handcuffing a male escort to a wall and beating him with a metal chain. Allegedly!
Things have apparently turned around for the star. On a recent episode of E!'s Hollywood Medium with Tyler Henry, Boy George seemed healthy and happy, not to mention clean and sober. Good for him!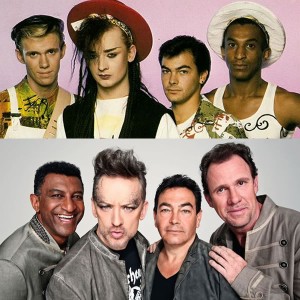 You're Fired!
Will our Boy George hear the words, "You're fired!" in a thick, Austrian accent anytime soon? You're going to have to tune in.  The Celebrity Apprentice will premiere Monday, January 2nd on NBC.