Steve Martin and Michael Caine's original film Dirty Rotten Scoundrels from 1988 is being remade with some of Hollywood's most popular actresses. Putting a female spin on '80s classics seems to be a pattern after Ghostbusters and now it continues.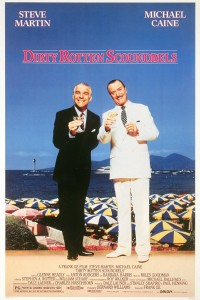 "Anne Hathaway will join Rebel Wilson in a gender-reversed remake of the 1988 comedy Dirty Rotten Scoundrels," according to The Guardian.
"The pair will take on the con artist roles originally played by Michael Caine and Steve Martin in the original."
From that little information it is easy to see that the film will follow the footsteps of the original characters and plot. There is one twist. The film is reportedly being renamed Nasty Women.
The name change has be rumored to be a response to Donald Trump's statement against Hillary Clinton in the 2016 Presidential Debate.
Enough with the politics, the film will have some pretty big shoes to fill because the original was an instant classic. From the actor lineup, we're assuming Wilson will have the job of bringing the hefty comedy like Martin did in the original.
As for Hathaway, she should be assuming Caine's character in a revamped form of some sort. As details emerge, hopefully we can see it come together as awesome as the original did. Until then, check out one of our favorite clips from the film below.
Dirty Rotten Scoundrels Whip Scene