IRON MAIDEN's successful The Book Of Souls World Tour will return to North America for an extensive series of arena and amphitheater shows in summer 2017.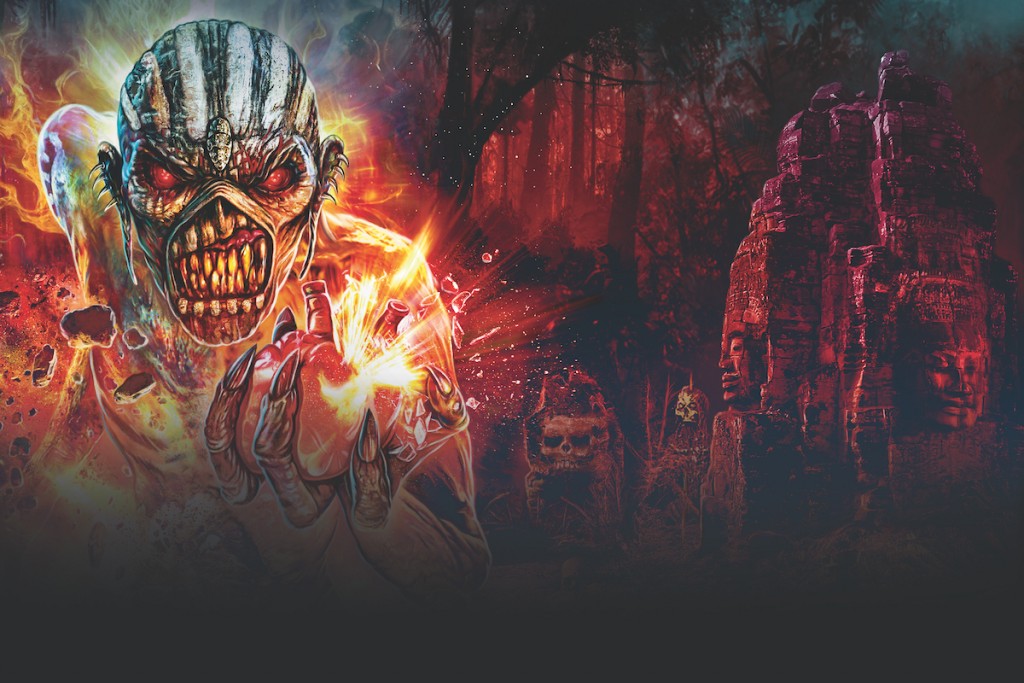 The tour opened in Florida last February playing fourteen sold-out shows in the U.S.A and Canada along with a further 58 concerts in 34 other countries around the globe.
"We are really looking forward to returning to North America for a full tour," said Steve Harris.
"We had always planned to go back there and to the UK as last year, due to the global nature of the tour and the period it took, we just didn't have time to cover them properly and we do still like to get to fans in as many places as possible!"
"We will, of course, be bringing the full production with us including all the Eddies and the Maya-themed stage sets," he continued.
"There's been a great reaction from everyone to this tour's theme, people really seem to love it. We're still deciding on the final set-list and we'll work that out once we get into rehearsals. Most of our North American fans haven't seen the show yet so as we want to give them the same Book Of Souls live experience that we took around the world, it's unlikely we'll change much. And of course we know our fans appreciate us playing a lot of the older songs too, so we will continue to do that!"
Iron Maiden 'The Book of Souls Tour' Dates
JUN 03                  BRISTOW, VA                                            JIFFY LUBE LIVE
JUN 04                  PHILADELPHIA, PA                                  WELLS FARGO CENTER
JUN 07                  NEWARK, NJ                                             PRUDENTIAL CENTER
JUN 09                  CHARLOTTE, NC                                       PNC MUSIC PAVILION
JUN 11                  TAMPA, FL                                                 AMALIE ARENA
JUN 13                  NASHVILLE, TN                                         BRIDGESTONE ARENA
JUN 15                  CHICAGO, IL                                              HOLLYWOOD CASINO AMPHITHEATER
JUN 16                  MINNEAPOLIS, MN                                  XCEL ENERGY CENTER
JUN 19                  OKLAHOMA CITY, OK                              CHESAPEAKE ARENA
JUN 21                  HOUSTON, TX                                           TOYOTA CENTER
JUN 23                  DALLAS, TX                                                AMERICAN AIRLINES CENTER
JUN 24                  SAN ANTONIO, TX                                    AT&T CENTER
JUN 27                  ALBUQUERQUE, NM                               ISLETA AMPHITHEATER
JUN 28                  PHOENIX, AZ                                             TALKING STICK RESORT ARENA
JUL 01                   SAN BERNARDINO, CA                            SAN MANUEL AMPHITHEATER*
JUL 03                   LAS VEGAS, NV                                         T-MOBILE ARENA
JUL 05                   OAKLAND, CA                                           ORACLE ARENA
JUL 07                   SALT LAKE CITY, UT                                  USANA AMPHITHEATER
JUL 09                   LINCOLN, NE                                             PINNACLE BANK ARENA
JUL 11                   KANSAS CITY, MO                                     SPRINT CENTER
JUL 12                   ST LOUIS, MO                                           HOLLYWOOD CASINO AMPHITHEATER
JUL 15                   TORONTO, CANADA                                BUDWEISER STAGE
JUL 16                   QUEBEC CITY, CANADA                           VIDEOTRON CENTRE
JUL 19                   MANSFIELD, MA                                      XFINITY CENTER
JUL 21                   BROOKLYN, NY                                         BARCLAYS CENTER
Tickets start going on-sale Friday, January 27 – check www.ironmaiden.com for market specific info. As usual, there will be an exclusive pre-sale for IRON MAIDEN Fan Club members, details of which can also be found on www.ironmaiden.com along with information on how Fan Club members can participate in the draw to be "First To The Barrier."
The Book Of Souls is Maiden's first ever double studio album and their most successful chart-wise to date, debuting at the No. 1 spot in over 40 countries around the world and No. 4 in the U.S.A.