You can't believe it, can you? The show that has captured the attention of so many generations was released 3 decades ago. Here are some of the best lines and things about Full House.
Best quotes of Full House
"Have mercy!" Originally Uncle Jesse's line to Becky, several other family members have used and reused this quote often.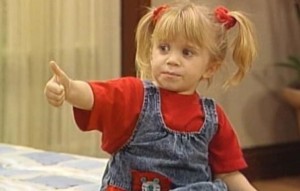 "You got it, dude." Michelle loved to use this phrase and did often in the show. Sometimes prompted with someone else saying it first, this line can be heard in many episodes.
"How rude!" Stephanie Tanner loves to strike back with this one. Whether in retaliation for herself or someone else, this is commonly heard while watching Full House.
"Hola Tannerinos" This is Kimmy's call upon entering the Tanner's house. She is quite the character in this show.
"Talk to me." This is how Jesse answers the phone and it's comical every time.
Things that make Full House, Full House
Steve eats all the food. Whether it's because he is there for dinner or just hanging out with DJ, he is always snacking on something or asking what kind of food they have for him.
Danny is such a clean freak. There is nothing better than watching him wearing his yellow rubber gloves to wash his yellow rubber gloves.
When Becky finds out that she's pregnant and makes Jesse a feast of "baby foods." Baby corn and baby back ribs are just a few of the selections she makes to reveal her news. Too funny.
Episodes of Full House can be seen in lots of places and they are as good as they were when they were released. Happy rerun watching.