While we probably don't have to spell it out for fans of The Goonies, but for those who may have never seen the film, here are 4 Reasons The Goonies Is A Fun Flick. Following our list is The Goonies Trivia to help fans test their own knowledge.
1. Data and all his inventions are too fun. From "wings of flight" to his "open coat glove punch", he has something for every occasion.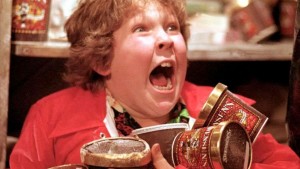 2. Chunks constant quest for food is pretty entertaining. The first time you see him in this movie he has pizza in his hand and a milkshake in the other. If he isn't eating, he is trying to find food or thanking his mom for bringing him food. Chunk is all about the food.
Also, he drops everything. Hilarious every time.
3. Mouth speaks Spanish. This is awesome and a skill that he uses throughout the movie. First he helps Mikey and Brand's mom while conversing with a housekeeper brought into the house to help with packing. However, he tells her tall tails the whole time.
First, that the drugs need to be separated, then that the attic is a sexual torture chamber and last that if she isn't helpful she will be locked with bugs for 2 weeks.
4. The kids are on a treasure hunt for most of the movie. What's more fun than that? After finding a treasure map in the attic, the Goonies go in search of treasure. They encounter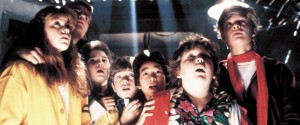 criminals, Sloth, bullies and obstacles. When they find the treasure and are able to save the land from the people wanting to build the condos.
This movie is entertaining and a great coming of age story. The kids take care of each other and protect each other all while having fun and going on an adventure.
Think you know everything there is to know about this movie? Take this quiz and see:
Quiz: How Will You Do On This Goonies Trivia Quiz?