Dating back to 1988 Heathers was a pretty dark film but managed to become quite popular. Now, thanks to TV Land, Heathers will return as a TV Series.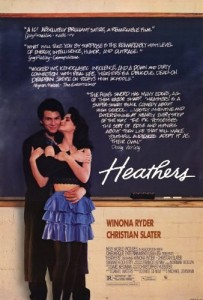 "TV Land has picked up the 1988 cult classic's TV reboot to series, the network announced on Friday at the Television Critics Association press day in Pasadena, California," according to ET.
"The new series, the first hour-long show to hit TV Land, will premiere with a 10-episode first season this fall."
The original film featured Winona Ryder, Christian Slater, Shannen Doherty and told a story of a good girl trying to get back on the right track. However, she went about it in a murdering way. 
The new stars of the TV series scheduled to premiere in the fall consists of "Victoria Cox as Veronica Sawyer, stars James Scully as J.D., Melanie Field as Heather Chandler, Brendan Scannell as Heather Duke, and Jasmine Mathews as Heather McNamara."
In an even bigger twist, Shannen Doherty will be making an appearance in the new adaptation however, details on her character are unknown.
Are you excited for Heathers to return? Let us know in the comments section below.
TV Land Confirms A 'Heathers' TV Series