It looks like CW's The Flash may have taken a page out of Booster Gold's comics from the 80s.
Booster Gold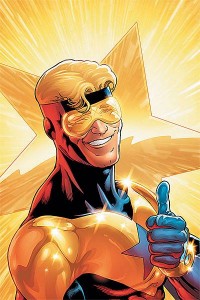 In the January 31, 2017 episode of The Flash, titled, "Dead or Alive." A Justice League member from Earth-19 called Gypsy, traveled to Earth-1 to extract H.R. Wells and bring him back to her Earth.
Wells was to serve the death penalty on Earth-19 as interdimensional travel was one of the most coveted laws.
"If all of this sounds familiar to you long-time DC fans, that's likely because it's the same idea as a Booster Gold story from the character's first ongoing series in the '80s," according to the ComicBook report.
"In the case of Booster Gold, he was followed back to the 20th Century by Broderick, a 25th Century federal agent who wanted to bring him to his home time period to face the death penalty for unauthorized time travel."
More exciting news comes for 80s Booster Gold lovers as the report also states, "Zack Stentz, who is currently working on a script for a Booster Gold feature film to be produced by The Flash executive producer Greg Berlanti."
It's very possible that The Flash "Dead or Alive" could be a preview of a film to come in the future. Do you remember the Booster Gold comics? Let us know in the comments section below.