As I write this, I am looking at an orange, tattered, thirty-year-old slip of paper: the ticket stub to my first concert.
First Concert Reflections: Bon Jovi 1986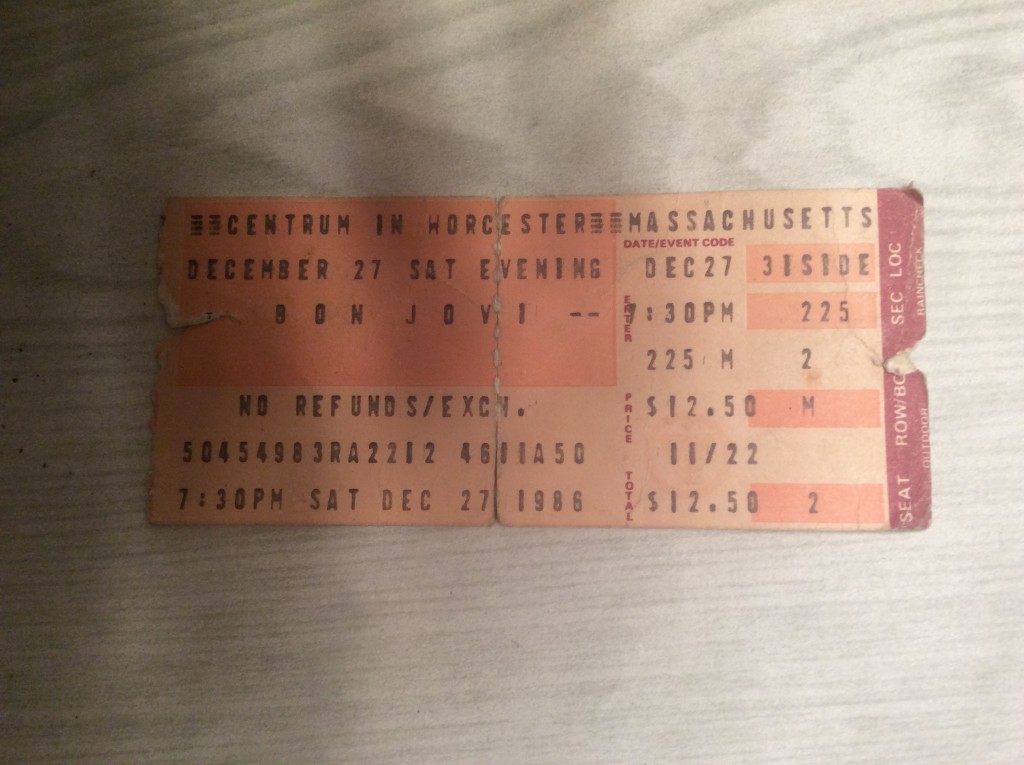 The barely legible words on the ticket tell the tale. The date: December 27, 1986. The place: The Centrum in Worcester, MA. The price: $12.50. (No kidding!!) And the act? Bon Jovi!
I became a Bon Jovi fan by osmosis. In 1986, I was driven to school by my friend Dapper, who was renown for many things: his supreme confidence when it came to girls, his Parliament Lights cigarettes, his green Dodge Dart, and most importantly, his worship of Bon Jovi.
When I was riding into school with him, Dapper must have played that Slippery When Wet cassette tape five hundred times. (He had installed in the Dodge Dart a high-tech stereo system that was worth more than the car itself.)  Occasionally, he'd play Bon Jovi's two earlier albums, and even more occasionally, he'd slip in some Billy Idol and– yes– some Meat Loaf. (I have a theory that every teenager in the 80s went through a Bat out of Hell phase at some point.)
But overall, Slippery When Wet was the album I heard pretty much every morning and every afternoon, on continuous loop. So in December 1986, when Bon Jovi came to town (well, an hour from town, but close enough), I knew I had to see him. I had been charmed.
It's a big deal, your first concert. You always remember it.  In fact, recently, I was setting up an online account, and one of the in-case-you-forget-your-password security questions was "What was your first concert?" It's a seemingly small but nevertheless significant part of you.  People like to reminisce about the experience– and I know this, because I posted a question on Facebook about first concerts, and I got a ton of great responses.
Since my FB friends tend to be "of a certain age," most people who responded mentioned concerts from the 80s: Duran Duran, Seven and the Ragged Tiger Tour, 1984, Madison Square Garden; REO Speedwagon, the Good Trouble Tour, 1982, Tingly Coliseum, Albuquerque, NM; Depeche Mode, Black Celebration Tour, 1986, Irvine Meadows Amphitheater, CA.
Several of the people who responded even remembered the exact date of the show– e.g. Hall and Oates, February 16, 1985, Hollywood Sportatorium; or David Bowie, Glass Spider Tour, September 28, 1987, Capital Centre, Landover, MD (with Toni Basil leading the dancers).
My respondents covered pretty much every big 80s act– from Tears for Fears to Kool and the Gang, from Billy Joel to Lionel Richie, from Eurythmics to U2, from Debbie Gibson to Motley Crue. One friend recalled her first concert was "Bruce Springsteen, August 14,1985, Veterans Stadium, Philadelphia…and he's still my favorite!"
Another friend pointed out that some people's first concerts might have an asterisk next to them: "I saw Peter Paul and Mary in middle school at the Philadelphia Folk Festival when I was 2… but WHAM! Make It Big Tour, 1985, Tower Theater Philly was my first Concert Of My Choosing." Similarly, my wife saw a bunch of, um, less-than-cool entertainers in elementary school (Paul Anka, Fifth Dimension), but she considers Huey Lewis and the News her first Concert of Her Choosing.  And some of my Facebook respondents admitted to Bobby Vinton, the Osmonds, and Sha-Na-Na as their technical "first concerts."
For me, Bon Jovi was both my first concert and my first concert of my choosing– and I'm oddly proud of that fact. Other people seem impressed, too; in fact, when I tell people that Bon Jovi was my first concert, they often say, "Oh, that's a good one!"– as if I accomplished something. But it IS a pretty awesome first concert, especially when you consider that, thirty years later, Bon Jovi is still selling out arenas– for a tad more than the $12.50 I paid. (I checked out the tickets for the upcoming Jovi show at Mohegan Sun in CT. The cheapest seats? $125.00.)
And yet, despite how significant that concert was for me personally back in December 1986, I actually don't remember too many specifics about it. And not because I was in an altered state or anything– I wasn't– but because it was over thirty years ago. I remember who went with me. I remember the band Cinderella was the opening act. I remember Jon rode out on a trapeze-y kind of thing to a platform out in the audience to sing the ballad "Silent Night." I remember the audience going bonkers for "Wanted Dead or Alive."  And I remember that we got lost on the way home, which added another hour to our journey.
Still, though I don't recall many specifics about that December night, I know two things for sure:
(1) The show unlocked for me a deep love of live music. I don't know know how many concerts I've seen in my life, but it's a lot. (I've seen Bon Jovi three times overall.) Granted, my attendance at concerts has dried up over the past fifteen years or so, because shows got expensive and I got old. By I'll always love to watch acts perform live, and it all started here.
(2) The night was a rite of passage. I was sixteen years old at the time, and while I probably didn't think about it then, that show in Worcester was the farthest I had ever traveled without adult supervision. And it was an activity totally separate from my parents, who most likely had no idea who Bon Jovi was.  Maybe that's why so many people remember their first concerts so fondly, especially if you went as a teenager: it's just another step in the journey of forming your own identity.
I was reminded of the significance of first concerts last September, when I took my son to his first Concert of His Choosing: Meghan Trainor. The show was a blast, and I was glad I was able to go with him. But more than the show itself, I felt excited to pass on my love of concerts to the "next generation." You know, the word "concert" literally means "to strive together," and I hope this show is the start of many we see together in the years to come.
And if we could find some $12.50 shows… well, that would be pretty great, too!