Unfortunately the year 2015 has passed, which would have been the prime time to bring back Defenders of the Earth, being that the show was set in that year. However, we would still love to have the series back, despite the way we often feel about reboots.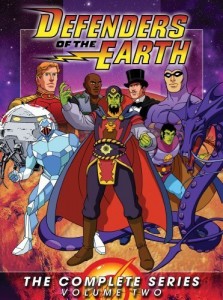 Sometimes it's quite difficult to say you miss a show and wish it would come back. That's because you have to worry about the new take ruining the experience you once had as a kid watching Mandrake the Magician, The Phantom and Flash Gordon battle the evil Ming the Merciless on Defenders of the Earth.
The show was packed with awesome 80s characters humor, high intensity situations and was just an overall break from the obvious superheroes like Batman, Superman, etc. These guys were pretty mystical and very awesome.
While we suppose a network could bring back the original series, it would get a little strange watching old storylines. Perhaps these characters in a new situation that starts the series all over would be an awesome treat for 80s Defenders of the Earth lovers.
There are plenty of awesome 80s characters and superheroes we would love to see make a return. Stay tuned, because we'll have a huge poll coming filled with a number of categories, asking which shows, trends and more you'd like to see return.
In the meantime, check out the Defenders of the Earth intro for nostalgic purposes.
Defenders of the Earth