We've got some of the most classics 80s prom looks and how the compare to the looks today. Don't forget the epic "promposals!"
Prom Looks: 80s And Now
Ruffles
Ruffles were the 80s prom fad to have. And the more the better. Whether topping off the dress on the sleeves, at mid length, accenting the bottom of the dress, or the entirety of the dress, ruffles were it.
Bright Colors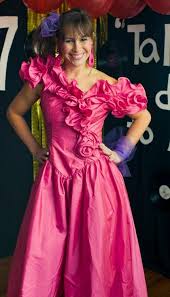 The 80s is characterized as a bright and neon era full of hues and eye catching colors and prom dress season was no different. Pinks, blues, and yellows were popular and as previously stated, the more ruffles, the better.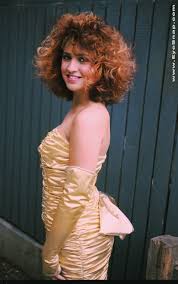 Big Hair- Down
Big was the ultimate 80s look, from hair to jewelry to pants. For prom, the common choice was ultra teased curly hair worn down.
Big Sleeves
Big sleeves had their place in prom style in the 80s too. Short and puffy sleeves looked awesome with the big hair and of course, the ruffles.
Metallic Shiny Dresses
And if you wanted to have it all, you got yourself a metallic, puffy-sleeved, neon or bright colored dress, with ruffles. Add some big hair and you were the best looking girl there.
Now
Sleeveless dresses are a popular look now and have been for a while. Most hair is done curly and in an updo making for a no maintenance hair style. Updos are classically elegant and cooler for dancing as well.
One major difference, the way that people ask others to accompany them to prom now. Grand gestures and pizzas with toppings spelling out "Prom?" are the new thing. Dubbed "promposals," here are some surefire ways to get a "yes."
Anything over the top including but not limited to food, balloons, gifts and puns. This new trend seemingly came out of nowhere but one thing is clear- if you want to go to prom you better practice your "promposal" and make it good.