Years after the release of the IT horror novel in 1986, Tommy Lee Wallace brought the story to life by directing the mini-series. Now over 25 years later, a new film comes along inspired by the initial novel and mini-series.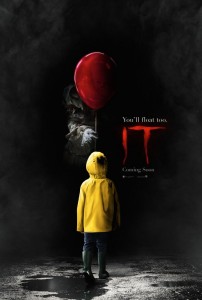 Pennywise is a demonic clown who is in the business of luring and kidnapping children and adults. The new film looks to be set in the 80s and it could be the first of two films. As we all know, the losers take on IT as children and later on as adults.
While Tim Curry made a more comedic clown, the film's new Pennywise, played by Bill Skarsgård looks absolutely terrifying. He's literally the clown from your nightmares whose face you can't get out of your head.
We're still finding it hard to wrap our minds around the return of Pennywise, especially such a sinister looking version of him. Not to mention towards the end of the trailer, Pennywise is popping out of the water and running at his victim.
"Andres Muschietti directs this IT remake from a script by Cary Fukunaga, who was once set to direct the movie himself, and Chase Palmer," according to MovieWeb.
We can already tell what plenty of people will be dressing up as for Halloween this year. If you loved the 80s novel IT, check out the terrifying trailer for the 2017 film below.
IT