In the 80s and 90s, Perfect Strangers was a major hit that filled all viewers with a ton of laughter.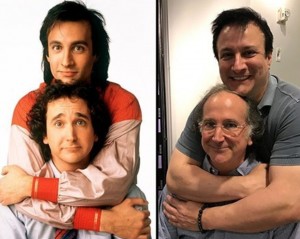 "Bronson Pinchot and Mark Linn-Baker, who played distant cousins from different continents on the hit ABC show, recently gave a joint interview — their first in 25 years! — to New York radio station 106.7 Lite FM, who shared the chat on Facebook Live," according to Today.
The comedians clearly did not lose a step as they were able to get away with telling the host she bared a resemblance to Ivanka Trump. Pinchot and Baker were reunited for the first time on public but normally see each other all of the time in real life.
Among the highlights of the interview was Pinchot's recollection of being on the show then transitioning to doing sketches alone.
"During their laughter-filled chat, Pinchot and Linn-Baker reminisced about hilarious on-set moments, and revealed that they can still finish each other's sentences, which they were able to do from 'day one, minute one,' says Pinchot," according to the report.
"The first time I did a comedy without Mark, it was like when they take a person who's sightless and they move the furniture," said the actor.
"I was like, 'What? Where's the guy who reads my mind?'"
You can hear all of their wacky moments from the 106.7 Lite FM radio interview in the Facebook Live video below.
80s Sitcom 'Perfect Strangers' Stars Reunited On A Radio Show