New Order happens to be one of those 80s band that possessed that electronic sound that paved the way for plenty of bands today. Recently, the band performed at the Santa Barbara Bowl and according to reports, they haven't lost that 80s feel.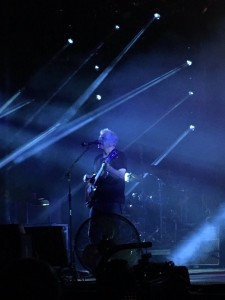 "New Order paid the Santa Barbara Bowl a visit last Tuesday night. Kicking off the set with "Singularity" off its recent 2015 album, Music Complete, the band showcased its signature, classic '80s sound that hit close to home for many longtime listeners," according to Independent.
"Taking a step back in time with 1981 single "Ceremony," the undeniable aura of Joy Division emanated from the stage, satisfyingly nostalgic for those in the audience who've been with New Order since the beginning."
For many, "Bizarre Love Triangle" was one of the biggest hits from New Order in the 80s. That bright and clap heavy trakc with plenty of electronic notes and synthesizers screamed 80s. According to the Independent, the band has keep most of their 80s sound.
To purists, that's all you can really ask for from a band who really delivered some feel-good music that was easy to dance to. Here's a little throwback to "Bizarre Love Triangle" below. We also want to know what your feelings are on 80s bands. Should they keep delivering that 80s sound? Or, is it nice to hear their sound transform? Let us know in the comments section below.
New Order – Bizarre Love Triangle