For themed parties or holidays like Halloween we tend to want to find the perfect costumes. For us, it's all about the ultimate 80s costumes. So, we decided to create the only list of the ultimate 80s costumes you'll ever need.
From simple styles to film characters and athletes, this list has everything you will ever need to achieve the ultimate 80s costume and be the envy of the 80s-themed party. For the 20 looks that we chose, check out the list below.
These Are the Ultimate 80s Costumes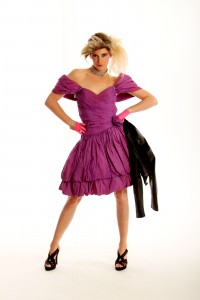 1. Prom girl
Dressing up as a prom girl for Halloween is almost as fun as dressing up for Prom itself. To get the quintessential 80s prom look, make sure to have a dress full of ruffles and big sleeves. Finish your look with big hair, lots of big accessories, and you're ready for prom, again! This is one of the totally ultimate 80s costumes we have in store for you.
2. School girl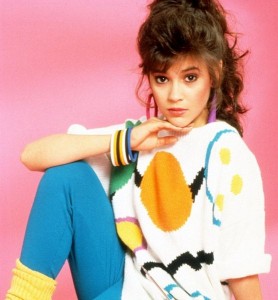 Styles of the 80s are nothing if not big. For an extremely comfortable and typical school outfit of the 80s, make sure to include these things:
A big oversized sweater, typically with loud, bright colors
Big neon earrings and bracelets
Socks over the bottoms of your leggings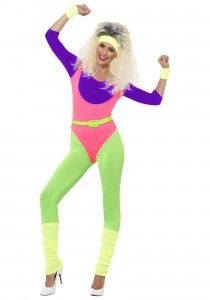 3. Workout chick
Workout clothes in the 80s just looked more fun! Leotards over leggings are just the start to the best ensemble for getting your sweat on. Add a neon colored sweatband, a neon leotard over neon leggings, and of course, neon leg warmers. A little cold? Add a short, oversized sweater and you're dressed and ready.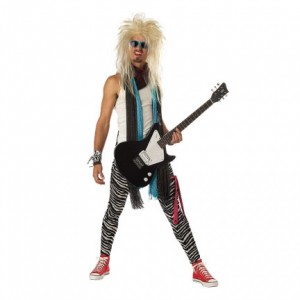 4. Hairband Man
To really get this look, a big, flowy, teased (permed) hairstyle is a must. A (sweatband) headband, animal print pants, and a short leather jacket with black boots makes this look. Otherwise head to toe leather and a (folded handkerchief) sweatband works too.
5. Eleven From Stranger Things
The new TV show Stranger Things is full of 80s throwbacks and it would be fun to dress up as any of them.
For Eleven, wear a pink long sleeve dress with white color, a dark blue windbreaker, a scientific calculator watch, and short wavy hair.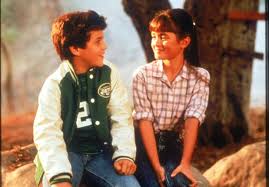 6. Winnie Cooper
The Wonder Years was such an iconic 80s show that featured a family from the 60s/70s. These decades were very similar to the 80s and Winnie Cooper had a great look no matter the year. Make a nod to Winnie Cooper and combine cat eye glasses with long braids, a plaid shirt, jeans, and white shoes.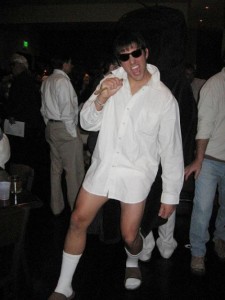 7. Joel in Risky Business
This look is cool, physically and theoretically. It's also easy. Raybans, a button down, some white socks (with sandals) and you're done.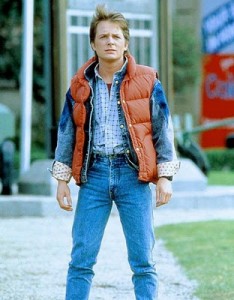 8. Marty McFly from the Back to the Future Series
From time travel to stage performances, who wouldn't want to be Marty McFly for a day? Dress in jeans, an orange sleeveless "Class 5" down vest, a long sleeved jean jacket, and a blue and white plaid button down and at least you can look like him for a day.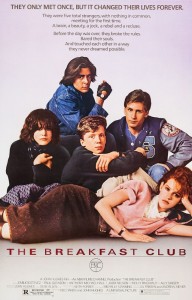 9. The Breakfast Club
Claire is the "princess" of the group. Long brown suede boots with a frilly, light earth tone top and  a flowy dark brown skirt.
Allison dresses all in black with a black dress and shoes.
I picture Brian dressing just like his dad with his tan slacks and a long sleeved black shirt and shiny dress shoes.
Andrew the athlete wears a dark blue sleeveless shirt, jeans, and blue tennis shoes.
John "Bender" plays the tough guy and "criminal" in dark jeans, a red plaid button down and boots.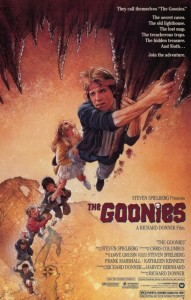 10. The Goonies
Eight of your friends want to go to a costume party and you all want to go as a group, dress as The Goonies!
Mikey is the fear(ful) leader of the group and really rallies everyone to help each other out. Dress like him with jeans, a short sleeved grey tshirt, long sleeved darker wash jean jacket, and white high top shoes.
Brand loves a workout so he lives in sweats including a sweatband or handkerchief. Oh and just like with any other 80s workout outfit, his blue shorts are worn on the outside of his sweatpants.
Chunk is as synonymous to the truffle shuffle as he is to The Goonies. His look is thrown together with a floral shirt, long plaid golf pants, and white shoes.
Mouth's outfit is simple yet stylish and includes a short sleeved black tshirt, khaki colored pants and black shoes with white soles.
As the inventor of the group, Data needs a outfit large enough outfit to accommodate all of them. Make sure to have a large khaki trench coat to go over a grey long sleeved shirt, jeans, and white shows.
Sloth is the smiley, kind-hearted guy that Chunk befriends and his look is fun and easy. Red suspenders, jeans, a superman shirt and short brown boots pull it off.
Andy and Stef are the girls of the group and have a cute, fun style that is easy to get.
For Andy, pair a short white tennis skirt with a light yellow baby tshirt and a bright yellow sweater. Add some white shoes and you're ready.
Stef's look is cute and colorful too. Grey light wash jeans with a white baby tshirt, a purple sweater, red scarf, and pink converse high tops finish it off.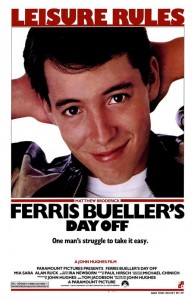 11. Ferris Bueller
Ferris Bueller is an undeniable 80s hit film and his look isn't too hard to pull off. Grab some white patent leather shoes, grey slacks that are on the baggier side, a plain white t-shirt, a funky printed cardigan-sweater-vest and a classic 80s styled leather jacket. Wait! Don't forget those classic Wayfarers.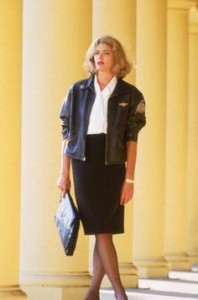 12. Charlie (Top Gun)
Kelly McGillis earned a part in all of our hearts as Charlie in Top Gun. What we like the most about her costume look is that it's incredible easy to put together. You'll need red lipstick, a women's white button-down dress shirt, tuck it into a black knee-high skirt, add stockings, black high heels and the essential leather aviator jacket.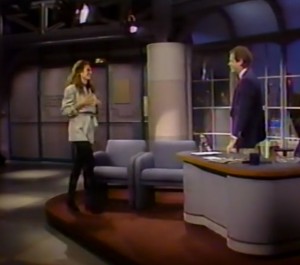 13. Cindy Crawford
We chose a Cindy Crawford look that was taken from a 1989 interview with David Letterman. It's very easy to achieve and it's very simple to find the elements of it. A grey/tan short spring peacoat, black pants, black heels and a little hairstyling gets you here very easily. So what makes this a Cindy Crawford look? Well, don't forget to add that beauty mark that she is so famous just above the left side of her upper-lip.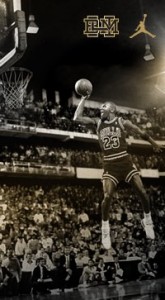 14. Michael Jordan
Michael Jordan is the GOAT in the NBA. Players are often held to his standard of basketball which is almost unbeatable. To achieve the look of this dominant player, an 80s styled Chicago Bulls basketball uniform is a must. Add some high white basketball socks and a pair of Air Jordan 1's to complete this simple look.
15. Larry Bird
We couldn't have Michael Jordan on the list without adding Larry Bird. A Boston Celtics legend who went toe-to-toe with Jordan many times. Bird's outfit is just as simple as Jordan. An old school Celtics uniform with number 33, high socks and a pair of Converse basketball shoes will make this costume complete.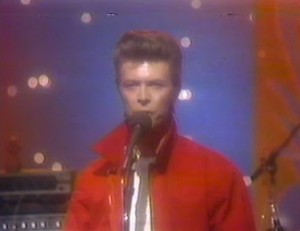 16. David Bowie
We decided to pick a very simple and easy David Bowie costume for our list. In this 1980 Tonight Show performance of "Life On Mars" Bowie sported a red coaches jacket over a white t-shirt, tucked into skinnier jeans and paired with some white shoes. A little hairspray or a wig and you'll be paying tribute to one of the 80s' greatest musicians.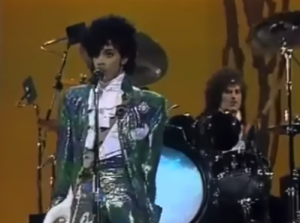 17. Prince
Prince is an 80s icon that will live on forever. There are plenty of fans out there who would love to take one of his eclectic looks and wear it well. It's not easy to do but there are some kits out there that offer a ready-made white ruffled shirt, a purple elongated jacket and the matching pants. If you really want to get serious about the look, you'll need a replica of that incredible guitar and a wig of full curly hair. If you pull off a Prince costume you'll be a legend at your party/gathering.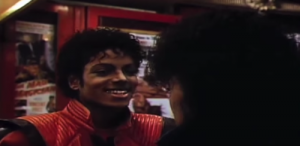 18. Michael Jackson
Michael Jackson ruled the music scene in the early 80s. With the release of Thriller, Jackson changed the game completely. For his look, we think that red leather jacket with as many zippers as possible, red pants to match that are on the higher side, white socks and black shoes will easily make this look complete. Don't forget added features like having the sleeves of your jacket rolled up and maybe a curly wig if you can get your hands on one.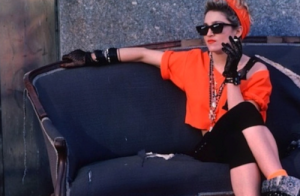 19. Madonna
Madonna is most definitely one of the most ultimate 80s costumes you could choose. Trying to replicate her look is really difficult since there have been so many over the years. However, we're focused on the looks she brought in the 80s. We found this photo of Madonna which shows her in a simple red crop-top, matching read hairband, black gloves, various necklaces and bracelets, black tights and what looks to be leg-warmers. This is an easy look but don't forget to add the Wayfarers to complete it.
20. Punky Brewster
For the final entry on our list of the ultimate 80s costumes, we chose a lovable character from a classic 80s TV show. That's right, here's the Punky Brewster costume idea. In the early episodes of the show she's quite the embodiment of a tomboy. Start with some not-so-perfect pigtails, a colorful long-sleeved shirt, t-shirt over the long-sleeved polo, jeans rolled up to Capri-length, colorful socks and finally some regular sneakers. There you have it, Punk Brewster rounds out the ultimate 80s costumes list for you.
Compiled By Emily Rokke and Navi, Like Totally 80s Contributors