The Wall film featured dark and powerful art by Gerald Scarfe, which will be the subject of the San Francisco Art Exchange. In 1982, Pink Floyd unleashed a powerful film that followed the madness of a rock star's troubling career. Now, the art from the film is expected to be sold for millions.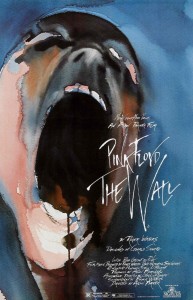 "The show will present more than $5 million of the most recognizable artworks over a broad price range related to Pink Floyd's The Wall movie, all by Scarfe," according to a recent release.
"A full digital catalog is available for interested collectors. All those who acquire artwork will be guaranteed access to the opening event."
The Wall album was released in 1979, just before the 80s, however, its effects carried on well into the decade. The album featured the iconic track series, "Another Brick In The Wall." There were three different part of the track and it still remains a classic to this day.
"Also for sale is the monumental painting of the Giant Judge and the Marching Hammers, which is currently on loan to the Victoria and Albert Museum in London for the Their Mortal Remains exhibition of over 300 items of iconic Pink Floyd artifacts and original artwork, May 13, 2017 – October 1, 2017. The exhibition is reported to be the largest in the museum's history," according to the release.
In 1982, The Wall won two BAFTA awards for Best Original Song and Sound. You can learn more about the artwork from the film here.
The Wall Movie Trailer