In 1989 Bon Jovi was on top the world. There was one hit in particular that earned them two weeks on the Billboard Hot 100's top spot. The classic rock ballad, "I'll Be There For You," ruled the charts for a couple of weeks before being taken over by Paula Abdul.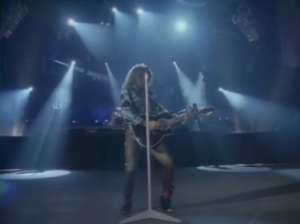 I'll be there for you
These five words I swear to you
When you breathe I want to be the air for you
I'll be there for you
I'd live and I'd die for you
I'd steal the sun from the sky for you
Words can't say what love can do
I'll be there for you
If those lyrics doesn't scream love, we don't know what to tell you. The masterfully written and performed song was one more notch in Bon Jovi's extremely extensive discography. As Bon Jovi tries to convince his lover not to leave, he pulls out all of the stops including the threat of suicide.
Of course, plenty of listeners would probably ask the question why he didn't clean his act up so he wouldn't have to beg? If that happened, then we wouldn't have this classic track that seemed to resonate with enough fans to help it hold the top spot for nearly two weeks.
This very remorseful song can get you through a breakup and in some cases may even prevent one from happening. Meanwhile, the music video took an incredibly different turn, rather than show a visual of a relationship in turmoil, Bon Jovi simply performed and shared video of crying and cheering fans.
As they say, classics never die and this is certainly one for the books. Relive Bon Jovi's "I'll be There For You" with the music video below.
Bon Jovi – "I'll Be There For You"