For the second time, the NYC company Opening Ceremony managed to resurrect popular 80s brand ESPRIT. Get ready for 80s fashion nostalgia. This time, the pieces are geared towards the spring fashion, pastels and have that 80s feel we all miss in clothing.
ESPRIT X Open Ceremony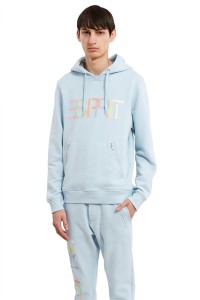 "THE 2ND COLLABORATION BETWEEN ESPRIT AND NYC'S OWN HUMBERTO LEON AND CAROL LIM OF OPENING CEREMONY. A CELEBRATION OF ESPRIT'S FOUNDING VISION, THE COLLABORATION IS BUILT ON A SHARED IDEAL OF POSITIVISM, AUTHENTICITY AND FRIENDSHIP," is how Opening Ceremony and ESPRIT described this new collaboration.
"MADE FOR THE HOT DAYS AND LONG NIGHTS OF SUMMER, THE ESPRIT BY OPENING CEREMONY COLLECTION DRAWS INSPIRATION FROM THE IMPACT THAT ESPRIT'S COLOR POPS, SIGNATURE GRAPHICS AND PROGRESSIVE MESSAGE HAD ON THE YOUNG MINDS OF HUMBERTO AND CAROL IN LATE 1980S LOS ANGELES."
From bold stripes to springy pastel colors, this collection has some very serious 80 notes. Of course, it is also speaking to a younger crowd by incorporating pieces like jogger pants and hoodie combinations that are popular in today's "street wear" crowd.
What may be quite shocking are the premium prices that are being put on the pieces. An ESPRIT logo hoodie retails at $110 and the matching jogger pants are priced at a whopping $95.
By now we seriously realize that all good things from the 80s will not stay there and companies of all sorts are beginning to capitalize on nostalgia. Are you a fan of the collection? Does it remind you of the pieces you wore growing up in the 80s? Let us know in the comments section below.