The Guardians of the Galaxy Vol. 2 soundtrack has plenty of big hits from the 70s. However, it also contains music from a classic 80s band Cheap Trick and 80s actor/singer, David Hasselhoff.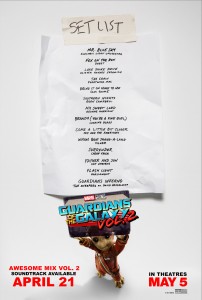 Hasselhoff appears on a featured song titled, "Guardians Inferno" alongside The Sneepers. The track has an undeniable 80s sound, it's comparable to that of the A-Team intro music from the classic TV show and film.
Meanwhile, Cheap Trick's "Surrender" also makes the tracklist, despite being released in the late 70s. The soundtrack has become synonymous with the old mixtapes of the 70s and 80s.
"We had Awesome Mix Volume 1 last time, and this time we have Awesome Mix Volume 2. It was so important that it's actually part of the film's title this time around," said Director James Gunn.
"As most people know, Quill's mom made the first tape for a slightly younger boy, and she made the second tape for a slightly older boy. So, in many ways the songs reflect the story."
Star Lord (Chris Pratt), holds on to memories of his mother through these playlists.
"The songs are a little bit deeper in some ways; a little bit less pop in some ways. Some of the choices are a bit more eclectic; some of the http://www.industrialinfo.com/choices are a bit more popular," Gunn added.
"But we have a real amazing group of songs that, like in the first movie, I wrote into the script. They are a part of the storytelling. Each song is very specific to the scene where it's placed."
The Guardians of the Galaxy Vol. 2 Soundtrack is available now. The film is set to release on Friday May 5.
"Guardians Inferno" By The Sneepers Ft. David Hasselhoff