What scares plenty of 80s music fans is the fact that their favorite acts have aged and the sound may have wavered a bit. However, a recent report praised Hall and Oates for their timeless sound decades after their hits reigned supreme.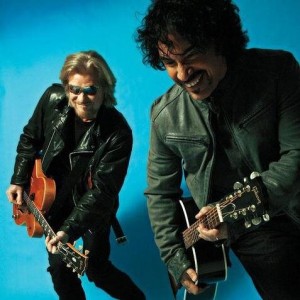 "The iconic duo from the 1980s, backed by a seven-piece band, performed for the first time at Wells Fargo Arena on Monday night, burning through nearly two hours of classic rock favorites with a sharpness untouched by age (Hall is 70; Oates is 69)," according to the Des Moines Resgister.
"Led by the timeless, smooth vocals of Hall, revamped renditions of tracks like 'Maneater' and 'I Can't Go For That' kept the crowd of thousands movin' throughout the show."
Hall and Oates – Maneater
It's a beautiful thing when artists of years past can put on a show that takes your right back to the decade you loved. It lessens the anxiety of thinking whether or not your favorite band still has it and helps you enjoy the show that much more.
Also along for the concert was Tears For Fears, an 80s band who brought us hits like "Shout," "Head Over Heels" and "Everybody Wants To Rule The World."
The band also performed "Mad World" according to the report, which will bring back memories for 2001 Donnie Darko fans as well.
Darko was set in the world of the 80s and the soundtrack featured "Head Over Heels" and "For Whom The Bell Tolls." Even more interesting is the fact that Gary Jules' "Mad World" rendition was featured on the soundtrack, though it was originally performed by Tears For Fears in a less haunting manner.
It's good to see that some of our favorite 80s bands still have it. Have a favorite Hall and Oates of Tears For Fears track from the 80s? Let us know in the comments section below.