You know that "amazing movie" from your favorite decade that you've never seen but people just love? For me, it was Fast Times At Ridgemont High, or so I thought.  With the anticipation of a dream come true like 16 Candles and the cool factor of Ferris Bueller's Day Off, I couldn't wait to sit down and take in this new-to-me 80s flick. 
Post viewing, I knew what my opinion was. I didn't love it or really even like it. Sure, it has its funny moments and its laughable situations but Fast Times At Ridgemont High is simply average. It showcases the 80s high school experience but without that zing.
Need more convincing that this stereotypical high school movie not much more than that? Here are some reasons this movie will always be so-so: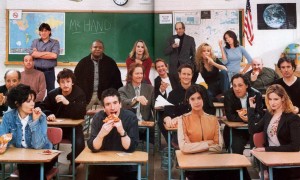 Based in California, the kids and people are portrayed with that image of clueless surfer dudes. Well funny at times, this stereotype gets old, fast.
According to Mr, Hand, they are all stoners. Again, this is only funny the first time. 
The mall is shown as the top form of entertainment, besides sex and drugs of course. 
The best part of this movie was Rat and Damone talking about girls. Remember the scene? Damone explains it all.
He tells of how to talk to a girl as laid out in five specific rules. Overall, don't talk, just keep quiet, and let her come to you. And don't ever let on how much you like her.
More specifically, if you need girl advice, follow Damone's five step plan:
First, you never let on how much you like a girl. Act cool.

Always call the shots.

Act like wherever you are, that's the place to be

Find out what she wants and then order for the both of you.

Most important. When you're making out put on Zeplin IV
Do you love this movie? Do you think you know everything about it? Take this quiz and test your memory:
Quiz: Fast Times At Ridgemont High