It's May 4th and to fans of the galaxy far far away, it's Star Wars day. In celebration of May The 4th, a YouTuber/producer by the name of Scandroid released a remixed version of the Star Wars theme song with an undoubtedly 80s sound.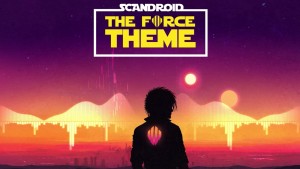 "This is the Star Wars cover you're looking for: Scandroid takes a Star Wars classic, 'The Force Theme' and turns the synths up to 11 in an epic cover to inspire the Jedi within us all. In the words of Obi-Wan Kenobi, 'Remember…the Force will be with you, always,'" read the caption of the video.
"I was inspired by artists like Tomita who re-imagined iconic Star Wars themes with synthesizers. I was excited to cover the 'The Force Theme' because I wanted to blend classic analog synthesizers with a re-orchestration of the original song. Not only was I influenced by the classic Star Wars films, but I am inspired by the possibilities of the new films. Enjoy this May 4th release and may the Force be with you."
It's got the sounds of an 80s film score varying in epic highs and bass heavy lows. The song sounds as if it is right out of the classic decade and really does the theme song justice. Fans won't be disappointed with this rendition.
If you're an 80s and Star Wars fan, here's the perfect way to celebrate May 4th. Check out the awesome 80s remix below.
Star Wars Theme Gets An 80s Remix For May The 4th