In 1982 Stevie Wonder and Paul McCartney joined forces for a song that was meant to bridge the racial gap. "Ebony and Ivory" was the name of the track and it ruled the charts for seven weeks.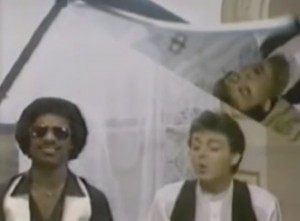 "Ebony and Ivory" caught fire on the charts from May 15 all the way up to June 26, 1982. It would later on be eclipsed by The Human League's "Don't You Want Me."
"When McCartney penned the song for his Tug of War album, he knew right away he wanted to record it as a duet," according to The Hollywood Reporter.
"In an April 1982 interview with Bryant Gumbel on NBC's Today, Sir Paul said: 'I had a song called 'Ebony and Ivory' that I'd written, and I wanted to sing it with a black guy. And my first thought was Stevie.'"
According to the report, the song was actually recorded on the island of Montserrat giving the artists the ability to record in a pretty relaxing setting. It could be the reason behind the care-free sound that is at the root of the song.
The track had a simple message that wasn't put forth in a harsh manner. It was light, catchy and had the ability to get everyone to join arms and sing in harmony. It was also a defining moment in music and showed just how powerful music can be in times of separation.
Check out the awesome music video for Paul McCartney and Stevie Wonder's "Ebony and Ivory" below.
Stevie Wonder and Paul McCartney's "Ebony and Ivory"