It looks like you may have to break out all of your 80s fashion pieces with those lovely shoulder pads. According to a new report, 80s shoulder pads may be back for Summer 2017. Okay, let's be honest, we don't want this to happen again.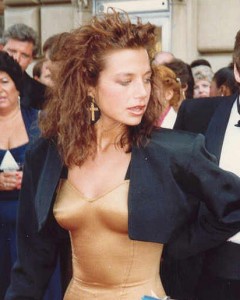 Photocred: Alan Light
The report named a few high-fashion brands that designed pieces featuring shoulder pads for a few celebrities that attended this years Met Gala.
"More relaxed versions of the trend were also spotted at Chanel with a metallic power suit recently donned by supermodel Cara Delevigne at the Met Gala and at Saint Laurent where tuxedo jackets and gold lame dresses came bolstered with boxy shoulders," according to Independent.
Unfortunately, many of the 80s fashion survivors who remember shoulder pads would probably wish that it stayed in the past. What this really proves is that the 80s is the decade that keeps on giving. Or, it's the decade that everyone keeps on drawing influence from.
Though, fashion trends are just trends and never actually last too long. So, whatever the fashion is this summer, will certainly not be the same for next year. If you do decide to venture back into the world of shoulder pads, Independent has a little advice for you.
"Ease yourself in by choosing between structured blazers, shirts and coats with imposing shoulder silhouettes and, when you're ready, add a waist defining belt to really up the ante," according to the report.