In 1985 the Teddy Ruxpin talking teddy bear was introduced and back then it was super cute. However the more we think about it now, it comes across as quite the creepy gift for a young child.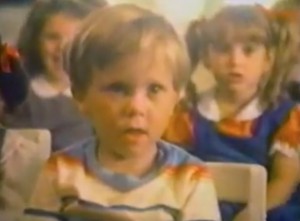 That theory is made a little more by an old commercial we dug up on YouTube. When introducing his Teddy Ruxpin to the class, a little boy becomes discouraged as his classmates seem disinterested in his show and tell piece.
That's when a cut-scene to Teddy Ruxpin shows the bear being suited up for a conversation. As soon as the batteries are in, Teddy Ruxpin introduces himself and something strange happens. The looks on the faces of the children in the classroom become a little blank.
Their eyes opened wide and they nodded yes to Ruxpin asking them to be friends. It's in this instant that Ruxpin became a little more than an adorable teddy bear. There was something a little mind-controlling about this whole situation and it really leaves a bad taste with us.
Sure, we understand that the intent was to bring children a toy they could interact with and especially one that was quite adorable. That being said there is an eerie feeling that goes along with any toy of this nature.
We'll leave the real deciphering up to you, the 80s lovers. Is Teddy Ruxpin your childhood hero? Or, is it a creepy bear that has mind-controlling powers?
Teddy Ruxpin: Childhood Hero Or Creepy Bear?