Do you remember Kim Carnes? If you do, it's probably due to her huge hit "Bette Davis Eyes," which ruled Billboard's Hot 100 chart for a few weeks in 1981.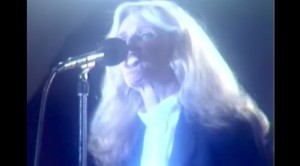 The song "Bette Davis Eyes" referred to one of the most famous American actors to live.
"Bette Davis, 'The First Lady of American Screen,' was born on April 5, 1908," according to Biography.
"Though she stood tall at a diminutive 5'3″, Davis had a larger than life persona and a career that spanned from the beginning of Hollywood's Golden Age until the late 1980s."
In fact, after the song was released, the famous actor sent a thank you letter to Carnes, according to the Biography piece. Davis did have one of the most distinct looks and piercing stares in the world of film and it's no surprise a song about them came about.
The song hit Billboard's Hot 100 Chart on May 16 and stayed strong at number one until June 13. It was an impressive 5 week run that came after Sheena Easton's "Morning Train (Nine To Five)" ruled the chart.
After the song was pushed off the top spot by the Stars On 45 "Medley," it soon returned to the top spot a week later on June 27, where it enjoyed another four weeks on the top spot until July 18.
"Bette Davis Eyes" is one of those lost wonders of the 80s that we just had to look back on. It was a sure hit and the time spent ruling the Billboard Hot 100 Chart proves it. Check out the music video for "Bette Davis Eyes" below and let us know if this was one of your favorite tracks of the 80s.
Kim Carnes – Bette Davis Eyes