The 80s fasions were nothing if not big and bold. So, it's no surprise that the makeup was the same. For that 80s makeup glow, follow these steps:
80s Makeup: This is What You Need for the Look
Heavy Eye Makeup
The darker the better. Lots of heavily applied black makeup was the staple look. Thick eyeliner on both lids and layers upon layers of mascara on the top and bottom, too.
Pink, Purple, and Blue Eyeshadow
And the bolder, the better. Caked on as they call it, is the perfect way to describe 80s makeup. These colors work as a trio too, and people loved to do them together. And fuschia? This color was everywhere, from 80s makeup to clothes.
Heavy Blush
Yes, heavy here too. Use more blush = accentuate cheekbones more. And the brighter and more pronounced the cheekbones, the more fashionable and suave.
Dark Lip Liner
Long gone are the days of a dark, lined lip. Lip style these days prefers lip fillers to this former drawn on plumper.
Foundation
Start with an empty canvas, also known as, all the foundation. With a clean palette, you can now paint on your face. And in the 80s, you did exactly that.
Bright, Bold Lipstick
Hot pink and fuchsia colors reigned perfect for your pout. The pinker, the better. A hot pink lip was born in the 80s, and still remains the most popular shade of the decade.
Neon Nail Polish
Because neon. The 80s loved this color palette, and while nail polish isn't technically makeup, it's an added accessory nonetheless.
Use bright, bold pinks and purples and lots of black on your eyes,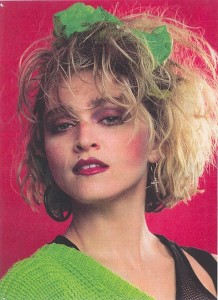 load on the blush, and make sure to start with as much foundation as your face can hold. This will give you that 80s look.
 But really, don't. Conventional foundation weighs down your skin, and clogs your pores and a barely there "face" feels better anyhow.