There is nothing cooler than an 80s star owning their past persona in present day. On Labor Day, John Stamos did just that as he rocked an 80s styled outfit, with his Uncle Jesse character printed on his t-shirt. Full House never seemed more awesome.
80s Star John Stamos Rocks An Uncle Jesse Shirt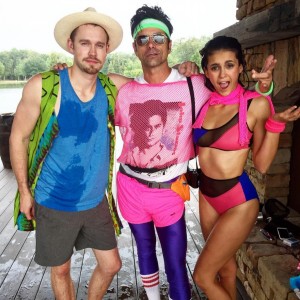 In the image above Stamos is seen wearing an 80s outfit that any 80s fan would be proud of. The vibrant colors, headband and tights really pulled it all together if you ask us. Looks like Stamos had a pretty fun and wacky Labor Day weekend.
"Labor Day weekend was a chance for John Stamos, Nina Dobrev, Chord Overstreet and more stars to turn back the clock!" according to 9News.
"A big group of celebrity pals visited the lake for the holiday weekend, turning the get together into an epic '80s party."
Meanwhile, Dobrev who is pictured above, joined the rest of her friends for another epic 80s shot. While she isn't old enough to remember everything from the 80s, plenty of 80s fans will love her after the caption she posted in the photo below.
It read:
"We had an 80's Neon themed party because the 80's were the best years (they're the best because we were all born in them… duh) Well, not Lane or Maverick. But they've been hanging out with us long enough that we've aged them by corruption and association."
It sure looked like a blast, gives us a pretty good idea for next Labor Day.