If we had to pick the decade with the best movies, it would have to be the 80s. Whether you want comedies, holiday flicks or teen dramas, you can find in all in the in this great decade.
And with movies, must come snacks. And with that being said, I know the first movie snack that "pops" into your head, is popcorn.
Popcorn goes with movies like big everything goes with the 80s, it's just how it is. And lucky for us, there were some great popcorn options that came out in the 80s. And, you know what? These options are still available.
Smartfood Popcorn
Although not a typical movie goers choice, this white cheddar popcorn came out in 1985, and it's been loved by fans ever since. Not only is this popcorn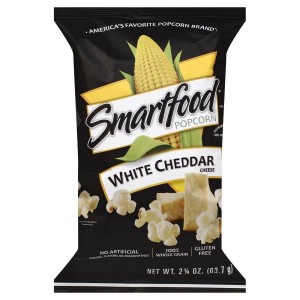 delicious, but it's healthy, too.
Originally this popcorn was created with the intent to use it to fill reclosable packages that one of the founders was trying to market. It turns out, the popcorn was better than the bags!
According to one of the creators, "Unlike the cheese popcorn already on the market, ours was made with real cheese and it didn't glow in the dark. We wanted quality and we were up against the negative consumer image, because pre-popped popcorn in a bag was considered garbage, not worth the money because it is not fresh and you can make it better and cheaper at home."
And there you have it. Although this product was sold to Frito-Lay in 1989, it's still made with real cheddar and it's still widely popular in the popcorn market.
Pop Secret Popcorn
Next up is this microwavable popcorn known and loved by teens, kids and people everywhere. Pop secret made its debut in January of 1986.
Originally Pop Secret was made by General Mills but by 2008, it was bought by Diamond Foods.
Pop Secret was popular in the 80s because it's easy and quick to throw into the microwave and about three short minutes later, you have a warm, delicious snack.
Pop Secret has more items than ever now including its original microwave popcorn, Sweet 'N Crunchy Kettle Corn, 100 Calorie Pop, 94% Fat Free Kettle Corn, Jumbo Pop Movie Theater Butter, and more.
Presto Popcorn Now Maker
And if you wanted to make your own, you could buy your very own Presto Popcorn Now Maker and make some fresh popcorn in your very own kitchen.
This air-popped popcorn maker was perfect for a movie night in. And because it is popped with air and not oil, it makes for a healthier movie night treat as well.
To use, just pour a level ½ cup of popcorn into the popping chamber. Replace the cover and measuring cup. If you want butter for your popcorn, the measuring cup is a great place to warm the butter while your popcorn pops.
Popcorn is the best with a movie and now that we know we can pair an 80s movie with some 80s popcorn, we know it will be a night straight out of the 80s. Well, except, we will probably be streaming the movie on Netflix or Amazon, because it's 2017. Enjoy your 80s movie and popcorn night!