Roseanne was a show about family and the typical issues we all deal with. The show revolved around family, money, kids, life and everything that comes with it. When the show wrapped in 1997, there were a few talks about making more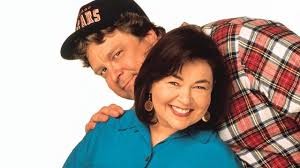 episodes, but nothing ever panned out. That was until 2018 and bam, Roseanne is set to come out again this spring. To relive the fun of the first Roseanne, let's take a look back at the 80s/90s sitcom with some facts, tidbits and quotes.
16 Things To Reminence About the Original Roseanne
The original Roseanne ran for 9 seasons and had 221 episodes.

The shows original name was "Life and Stuff." This is the name for the very first episode.

The very first line of the very first show was from DJ. 

DJ: Mom. 

Roseanne: What? DJ: I got a knot in my shoe. Roseanne: Wear loafers.

DJ stands for David Jacob.

George Clooney played in the first season of Roseanne as her factory boss, Booker Brooks.

Dan: Are you ever sorry we got married? 

Rosanne: Every second of my life. (This is good stuff HAHA.)

Roseanne worked at Wellman plastics when the show debuted.

Darlene is a Cubs fan

Dan calls himself "Dan the Drywall Man."

Corn, usually canned corned, is mentioned in almost every episode. This includes the first episode where Dan mentions his love of creamed corn. He tells Becky she cannot take the creamed corn to school for the food drive.

"Dan Conner" was rated as number 13 in TV Guides list of "50 Greatest TV Dads of All Time."

Roseanne based the Conner family as her own. She wanted the show to be relatable and voice the average American mother.

The family likes to bowl together.

Sixteen million viewers watched the season finale of Roseanne. (Or what they thought would be the season finale at the time.)
The new Roseanne will be out any day now and is sure to be just as shocking and real as the first one was. Fans cannot wait and they don't have to wait long.