Family game nights with board games are going by the wayside. Recently, I did play a bunch while visiting friends but on the whole, people immerse themselves in all the media these days. During the 80s though, it was about the games. And what amazing games they had.
The Games we Loved to Play in the 80s
Battleship
Did you know before the board game, Battleship, was first a pencil and paper game? After World War I, it was known and played worldwide. It wasn't until 1967 that Milton Bradley released this game, making it a staple of the 80s.
Topple
Debuting in 1983, this game is fun for everyone and such a part of the 80s. As you roll the dice and place your pieces, try not to make it topple!
Trouble
Though this game was released in 1965, it was popular throughout the 80s and it still is. Roll your dice and get all your pieces home first to win.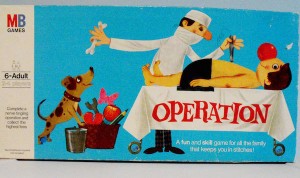 Operation
Another 1965 release that wowed the crowd and continues to be a favorite is Operation. It's awesome how hard this game is. Using a tweezers to squeeze out the Adam's Apple and the spare ribs makes you a winner, as long as you don't touch the sides!
Connect Four
It was 1974 when Connect Four first graced our fingertips. Horizontal, vertical or diagonal, just get four in a row and you win. And just so you know, this game goes by many other names and can be called Captain's Mistress, Four Up, Plot Four, Find Four, Four in a Row, Four in a Line and Gravitrips.
Simon
Released just before the 80s in 1978, Simon is a fast paced memory game that really gets everyone involved. Pay attention and tap the colors in the right order to win! Can you outsmart your opponents.
Though most of these aren't 80s releases, they were all played and loved in the decade. And most of them still are. Plus, they are getting modern extras and are still a great time on a Friday night.