It was 1988 when Lunchables first came on the scene. This "lunch box" meal was first released in Seattle before going nationwide in 1989.
Like Totally 80s: Happy 30th Birthday Lunchables
These cracker snacks were actually invented in 1985 by Bob Drone, Tom Bailey, and Jeff James. It turned out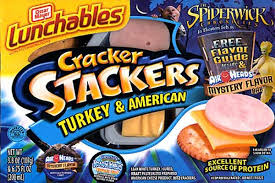 mothers were busy back then, too, and just wanted to get their kids out the door with a ready made lunch. Does the design look familiar to you? It's supposed to look like a TV dinner, and it really does.
Lunchables almost had a different name. The other names thought of for this product were On-Trays, Crackerwiches, Mini Meals, Lunch Kits, Snackables, Square Meals, Walk Meals, Go-Packs, and Fun Meatz. It's a good thing they chose Lunchables..
No matter what you call them, these cracker combos are pretty good. Unfortunately, as it turns out, they aren't that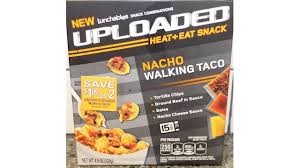 good for you. After releasing "Maxed Out," a 40% larger version of the original, the new product came under scrutiny for having as many as 9 grams of saturated fat. This is nearly an entire day's recommended amount of saturated fat for kids. It also had up to two-thirds of the maximum sodium intake for a day and 65 grams of sugar, much more than you should consume in a day. Yike.
But be that as it may, Lunchables are still out, and there is no shortage of combinations these days.
For Lunchables with a drink, you can choose from Pizza Kabobbles, Mini Burgers, Mini Hot Dogs, Light Bologna+American Cracker Stackers, Chicken Dunks, Extra Cheesy Pizza, Ham+American Cracker Stackers, Nachos, Cheese Dip+Salsa, Pizza with Pepperoni, Turkey+American Cracker Stackers, Turkey+Cheddar Stackers, Duo Dunkers, and Pizza and Treatza.
Want your Lunchables with 100% juice? Try these:
Chicken Popper Kabobbles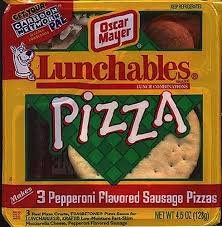 Deep Dish Pizza with Pepperoni
Turkey+Cheddar Sub Sandwich
Turkey+Cheddar Cracker Stackers
There are also two organic options, 13 options without a drink, seven "Uploaded" options, and five Lunchables Snacks.
Healthy or not, it's clear these lunches and snacks are here to stay. And we have the late 80s to thank for that.