Nails in the 80s were awesome. The styles are timeless and the look is so chic. You'll see lots of these nail fashions in 2018, the looks are just that good.
Nails of the 80s, and Today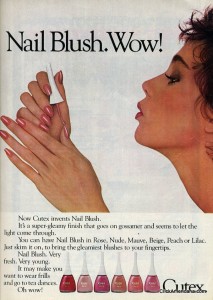 Neon Nails
It's no surprise that neon nails were popular in the 80s. The best part about neon nails, is all the varieties you can do. A solid bright pink mani is just as cute as a bright green mani, or you could use them all for rainbow.
Nail Blush
Cutex came out with a line of super-gleamy finish nail polishes. You could choose from Rose, Nude, Mauve, Beige, Peach, and Lilac. This polish claimed to leave you very fresh and very young.
Holographic Nails
This nail look has come back, and its easier to create now than it was in the 80s. Back then, the foils were in small squares that you needed to break up into small pieces. Now they foils are sold paper-thin, making it extra easy to work with.
Long Wearing
This new at the time Maybelline polish was said to keep your nails "looking their best longer." What kind of promise is that? These days we need to know what kind of coverage we're getting, will it chip in a week, how long it will really last and if it's been tested on animals before we decide to buy. We sure got needy.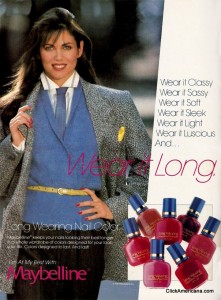 Reverse French Manicure
This look is back i, in 2018, in fact, you see it all the time. Like it's counterpart, you have two contrasting shades on each nail but now instead of the end of the nail being accented, the nail next to the cuticle is.
The brands and nail polish are different and gel is very common now, but these looks were awesome in the 80s and they still are today.