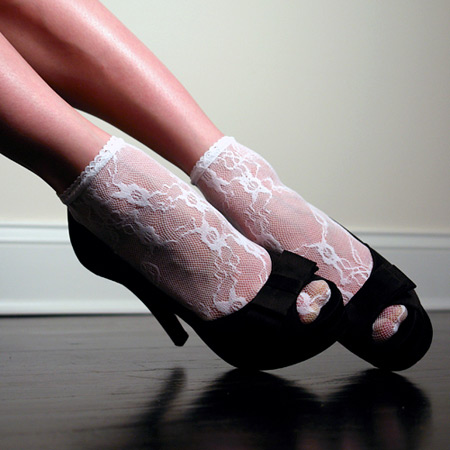 "She's Got Legs . . . She Knows How to Use Them." – ZZ Top
One of the more unusual eighties fashion for women has to be ankle socks. Usually reserved for little girls, these socks were called anklets. To be more mature for the big girls wearing them, they became known as ankle socks.
Ankle socks were worn by models, actresses and most importantly, in MTV videos. How many times did we see a leggy model, wearing skin tight jeans, lacy ankle socks and a pair of high heels? The answer is: a lot.
Ankle socks were paired with unlikely matches. High heels. They could also be worn with low heeled shoes and tennis shoes, but the desired result wasn't the same. A pair of lacy, ankle socks was most often worn with high heeled shoes.
Perhaps the ultimate nod to ankles socks, ZZ Top's music video for "Legs" (see below for video). The poor, overworked, geeky sales clerk gets whisked away by magic vixen fairies to receive a makeover. She ends up totally bodacious in her mini skirt with lacy ankle socks and heels, and gets the props she deserves. Or, the opening scene in 1985's Just One of the Guys when Terri, the lead character, is still a girl and comes prancing into the school in what has to be one of the most quintessentially 80s get-ups ever – complete with ankle socks and heels.
Clothes in the 80's were tight fitting, at least for pants, and had more ankle space to show. In true 80s style, you couldn't just leave that skin unadorned – "excessorize" it. Most often ankle socks were white with various adornments. Designs on the ankle socks included lace, beads, colors and other various forms of trim. Since pants were often tapered, the ankle sock showed very well. If you wanted color with your tapered pant, you bought a pair or several of the slouch socks. See Layered Socks for more information on that trend.
1980s clothing styles were unique. When else would women wear another pair of socks over pantyhose? Probably never. But in the 80s, we certainly did. Ankle socks went with jean skirts and even skirts worn in the office. They were usually thin so they fit inside a dress shoe easily and without bunching. A lace edge provided for a more feminine look. Colored edging or beads coordinated with outfits better.
Alas, ankle socks are pretty much used only by little girls again. Lacy socks go with little lacy dresses – not a pair of skin tight Guess or Gloria Vanderbilt jeans and four inch stiletto heels. Men all over mourn the passing of this 80s trend, like fur sure.
ZZ Top with "Legs" (1984)