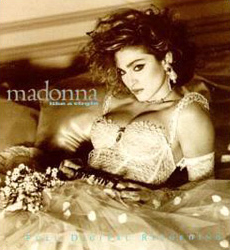 The music of the 80s spawned much of what's popular today, especially in terms of electronica, alt. pop, and synth bliss. While grunge may have inspired alternative rock as we know it today, 80s pop, new wave, and punk gave birth to a whole new generation of music that's done nothing but age well over time. But after 20 years, which famous people of the 80s music scene are still with us?
Madonna
After evolving from a cute-but-naughty virgin (well, like one anyway) to the monolith she is today, Madonna embodies all that was good from the 80s – excess, audacity, and confidence – and is still bringing it to us, material girl style.
INXS
After the death of dreamboat Michael Hutchence, who would've ever thought this iconic 80s band would've made such a comeback – and with such an amazingly Michael Hutchence-like new lead singer. After all these years, INXS still manages to be What You Need.
U2
Hardcore U2 fans from the early days always qualify their fandom with "I love their older stuff." But while Sunday, Bloody Sunday was perfect for its time, U2 has managed to continue to evolve, in music, in attitude, and in super-kitsch Bono glasses.
Aerosmith
Yes, technically they made their name in the 1970s, but the 80s wouldn't have been the same without this original-hair-band's input. Aerosmith will never die, and we'll always be able to count on them for one thing – the unchanging power ballad.  Steve Tyler has pushed beyond his Aerosmith fame as a judge on American Idol, bringing his music and popularity into today's pop culture.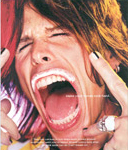 However, the 80s were also home to some musicians who, sadly, stayed in the 80s. In 1978, Olivia Newton-John became a heroine to a plethora of young girls, and let that status skyrocket her into fame with her totally rad, anatomically inspired songs like Physical and Heart Attack. And Cyndi Lauper, even after a small run on the small screen in the decades following, left her fab fame in the 80s after her fans left behind their own jelly bracelets and outrageously punk-meets-pop hair.
Speaking of hair, the 80s music scene was alive with trendsetting manes, no matter what genre. We had the infamously rowdy hair bands, like Bon Jovi, Poison, and Van Halen, as well as the infamously quirky new wave stylers like the Thompson Twins and A Flock of Seagulls. And refusing to be outdone by their outrageous hair, both The Cure's Robert Smith and Culture Club's Boy George took their androgenous looks and used them to promote their amazing music to the masses all throughout the 80s.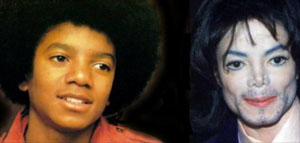 Above: Not sure what happened to him, but the 80s were definitely his decade.
And, above all else, let us not forget the King of Pop himself, Mr. Michael Jackson. MJ's superstardom had the whole world screaming over a simple sequined glove. He also broke records with his 1983 horror flick video for "Thriller," the longest, most expensive, and most elaborate music video of its time. And while his later life may have been filled with turmoile, back in the 80s Michael Jackson moonwalked his way into millions of hearts, and it was bad. You know it.