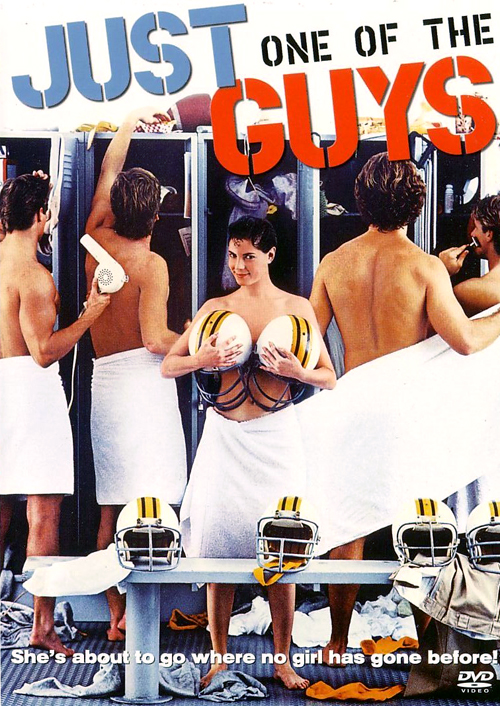 It is a story that had been done before and one that has certainly been done since (see Amanda Bynes's recent vehicle, She's The Man). But, 1985's Just One of the Guys stands out as among the best of the type, a great movie by any standards and a totally fab example of the 80s teen movie genre. It has a slightly low budget feel, but manages to pull off the story with good performances and some really funny lines (example: great supporting role of lead character's brother, Buddy, played by Billy Jayne). In the story, Terry Griffith, a major babe and aspiring journalist, is competing in a contest for an internship with the local paper. Her article is rejected by her journalism teacher, and she wrongly assumes the rejection was sexism – thinking that the same article written by a guy would have been accepted. In an effort to prove her point, she goes undercover as a guy to submit her article at the neighboring high school. She quickly learns that her gender wasn't the issue; it was her article topic and its lack of interest, heart or flare. By this point, she is so ensnared in the life of a new friend (Rick Morehouse played by Clayton Rohner) at this other high school that she continues the rouse, falling in love with Rick along the way. All that would be fine except that Rick thinks she's a guy. Hilarity ensues as Terry is forced to navigate the guy's locker room, use the guy's bathroom, hide what she is doing from her hunky boyfriend, Kevin, and withstand the advances of Sandy (Sherilyn Fenn), a girl that thinks s/he's all that. In the words of Sandy, "Look! What a fox! Dresses like Elvis Costello, looks like the karate kid – I'm gonna get him." As with any good teen movie, the story's climax occurs at the prom. Terry is revealed as a girl and declares her love for Rick. Rick is appalled and hurt that he has been so deceived. In the end, Rick comes around to being interested in her and all is right with the world.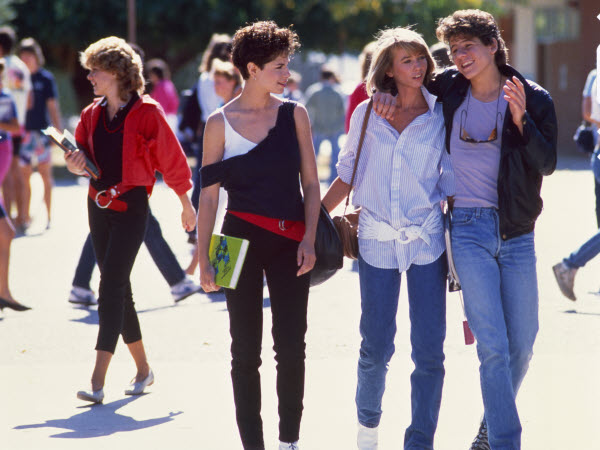 One unique aspect of this movie relative to many other must-see 80s teen movies is the lack of expected stars – not a brat pack member to be had here. In fact, this movie is chock full of actors that you never heard much more from at all, with the possible exception of the very beautiful Sherilyn Fenn. Many of the actors went on to do bit roles in various TV series. For more information on the cast, check out Just One of the Guys's page on IMBD. Just One of the Guys offers some awesome examples of 80s fashions. The opening scene in which Terry comes to school (her real school, as a girl), strutting around looking very 80s and very fabulous, is the perfect example. She is wearing a mini skirt with lacy ankle socks and heals and a big white bow tied in her hair. For a movie with a sweet story and great 80s fashion flashback moments, Just One of the Guys is a treat.

October 2010:
Our friends over at Kickin' Old School recently did an interview with Joyce Hyser. Read it here.