Here is our shameless plug for the Dead Milkmen – not one of the most popular or mainstream bands in the 80s, but certainly one of the more interesting. Two of their most known songs are Bitchin Camero and Punk Rock Girl – both anthems of an age, sort of. Anyway, take a look at the original music video for Punk Rock Girl (1988) and get ready to don your black and a heavy dose of attitude.
This is a look that hasn't gone anywhere. Today it is called "goth" or "alternative", but it came of age in the late 70s and early 80s. It is the definitive way of saying to society that you simply won't be bound its expectations and conventions. A style equivalent of "you're not the boss of me."
Here are the essential elements of the Punk Rock Girl look. However, this style is ALL about individual expression so don't be bound by our suggestions – you your own way.
Black combat boots/doc martins/converse high tops
Tights (either black or something bold like brightly colored horizontal stripes)
Short skirt (again, either black or something funky like school-girl plaid)
In your face tee-shirt – try some of these – or just plain black
Fake nose ring
LOTS of black eye make up
Bright red lipstick
Choker collar type necklace (see examples)
As pale as you can make your skin
Hair: Below are some options for hair. Not shown: you can use temporary color and put your hair in high pig tails on each side – sort of the naughty punk school girl look.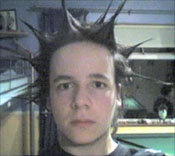 Liberty Spikes
(good for longer hair)

Mohawk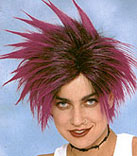 Spikey Wig
Buy Wig Here