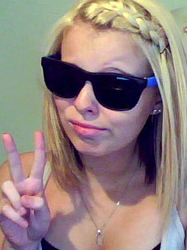 Wayfarers are Back
UPDATE April 12, 2011: It's official, Wayfarers are back in a big way for the Spring/Summer of 2011. A recent trip to the beach confirmed it. We are loving the return of the contrast temple version of this classic style. Shown here with blue contrast temples. These are a must have accessory for the upcoming sun season. Grab a pair, and you'll be walking on sunshine. What did Tom Cruise, The Blues Brothers and Don Henley have in common? That's right. Their iconic looks depend in part on their classic Wayfarer sunglasses by Ray-Ban. If you were cooler than cool in the 80s, then your sunglasses of choice were Ray Ban's Wayfarers. Don't know what Wayfarer sunglasses are? You do, trust us, but it may be possible you didn't know that was the name for these very classic, very 80s sunglasses.

Product Placement in 80s Movies for the Win
Ray-Ban began production of the Wayfarer design in 1952 so they had been around a while by the time the 80s rolled around, but their popularity was in a steady decline. All that changed in 1982 when Ray-Ban signed a product placement deal for $50,000 (wow, did they get a good return on that investment or what!?). As a result of that deal, Wayfarers were placed in movies and TV shows over 60 times per year in the years between 1982 and 1987.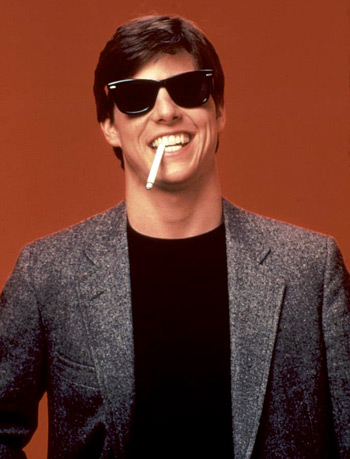 So what was the appeal of Wayfarer sunglasses and where did we see them placed in 80s movies and TV? Well, the fact that hotter-than-hot Tom Cruise wore them in 1983's Risky Business (shown left) probably helped the cause. The Blues Brothers probably had something to do with it too – as did Miami Vice and Less than Zero. Corey Hart even sported a pair in his hit "Sunglasses at Night." Of course the fact that Wayfarer sunglasses were mentioned in the "Boys of Summer" song probably didn't hurt either. Yes, when it came to 80s icon culture, Wayfarer had designer eyewear covered. What added to the "street cred" of Wayfarer sunglasses was the fact that they weren't just seen in movies or on television. Celebrities actually owned and wore them in everyday life. Tom Cruise, Jack Nicholson, Rob Lowe, Andrew McCarthy, Madonna and Don Johnson were frequently seen sporting Wayfarer sunglasses.

Still Look Awesome
If you never owned a pair of Wayfarer sunglasses, it's not too late for you to enjoy the Wayfarer experience. Unlike most 80s fashion trends, Wayfarer sunglasses really never went out of style. In fact, they're still popular today. You can buy Wayfarer sunglasses at almost any store that sells Ray Ban products (including online at Amazon and the like). We caught this pair in action (2009) in Birmingham, AL. Very cool. Knock offs are easy to find for much less than the genuine Ray-Ban variety, but then you're missing the "Ray-Ban" on the lens and the side piece.  Plus, we've tried the cheaper versions, and they just don't have the same quality and feel as the real deal (no surprise there). The Wayfarer sunglasses line was improved in 2002 and the new collection features an array of colors to choose from; although I still prefer the classic black Wayfarer sunglasses that ruled the 80s. At least part of our 80s fashion lives on today, and Wayfarer sunglasses are one piece of our 80s wardrobe that we can still wear today without looking like total geeks.