Olivia Newton John was a goddess in the 80s. She was beautiful, sang fabulous songs (while the Grease movie/soundtrack technically came out in the 70s – it was close enough) and starred in some classic movies of the period.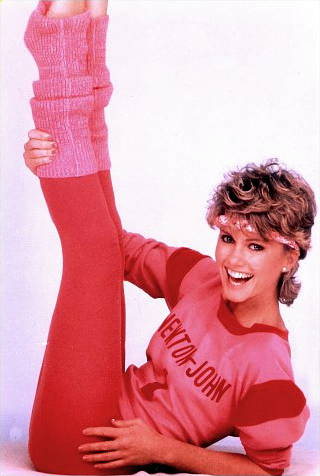 One of her best albums, Physical, featured its title song and one heck of a great music video. The Let's Get Physical costume idea is an homage to the 80s obsession with "work out" gear – this was the era of Jane Fonda as work out guru after all and the start of the work out tape (VHS and Beta naturally). To get in the right frame of mind, you'll want to watch the video for Let's Get Physical (one must wonder why the men in the beginning of the video are working out in bikini underwear – ahhh, the 80s).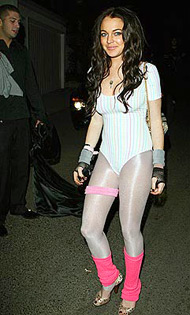 The essentials for this totally 80s costume idea are:
Head band (notice how it is worn in picture above – these are not really sold anymore so you can make one with a rolled up scarf)
Leotard and Tights – links to buy: Adult Tank Leotard (try the lavender or light blue options), Women's Opaque Tights (grab the hot pink ones)
Check out the Lindsay Lohan version of the 80s workout queen (pictured at right).