Elements for the ultimate 80s Prom Queen costume
A fabulous vintage 80s dress (ask you mom, your mom's friends, use your own stash from the 80s, or search ebay — this link takes you straight to the 80s prom dresses on ebay)
Satin dye-able shoes to match – this is a low-cost detail that is priceless (a bridal shop can do this for you)
80s hair – if you can't style your own through teasing, crimping, side-ponytails, etc, consider a wig
Rhinestones (now that's fancy!)
Wrist Corsage – must include baby's breath.
A date – try to get your date to go Don Johnson-style!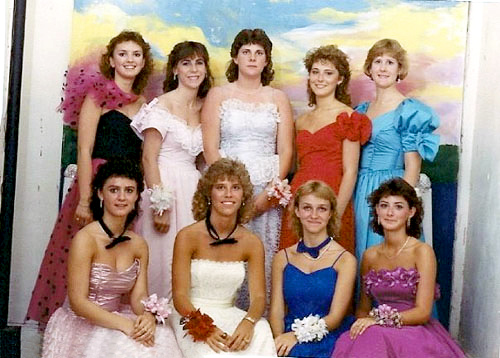 Notable details in this picture:
One-shoulder styling of the oraganza dream in pink and black in the back row
Puffy sleeves of the turquoise dress
LOADS of feathered hair
The ubiquitous wrist corsage
I love how the front row is sporting their dates' bowties
Classic!