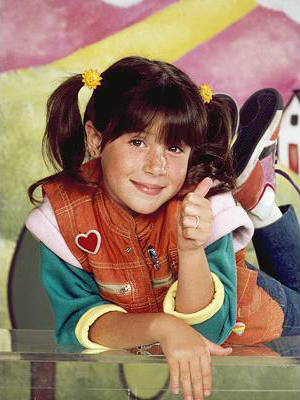 Punky Brewster was a loveable, sassy, and spirited young girl with a wardrobe to match. Visions of colorful clothes, bright bandanas and mismatched sneakers come to mind when you hear her name. And don't for get about those pig tails with the sun shaped ponytail holders!
The Punky look is all about layers, mismatched things, and bright colors (sort of like the 80s in general). Find some fun colored clothes and start mixing-and-matching.
Try some of these ideas . . .
T-shirt over a long sleeved tee with a vest on top (all different bright colors)
Sweatshirts with bold colors, shapes and squiggle prints
Jeans with one leg rolled up and a bandana tied around the leg on the other side
Suspenders
Skirt with tights (where each leg is a different color)
Leggings with oversized button shirt with funky prints worn as a dress; use a big belt to accentuate
Mismatched sneakers or hi-tops with bright colored shoe laces
Heart shaped button (may be added to vests or suspenders)
Bandanas rolled up and tied around the leg
Hair: Brown with bangs and pig tails (with sun-shaped or yellow ponytail holders)
Check out this totally awesome Punky Brewster costume by Hudson's Happenings (shown below).