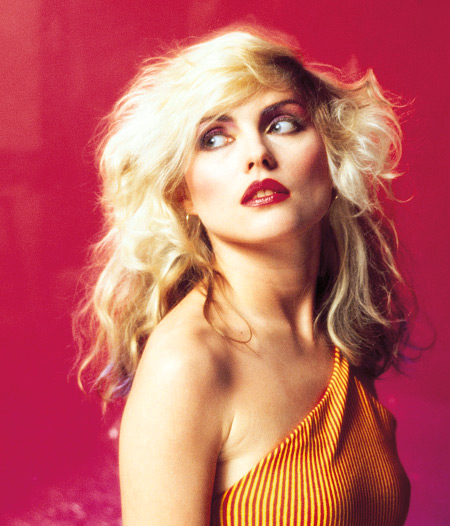 Gorgeous, sultry, talented – Debbie Harry was not just the voice of Blondie, she was the voice of the 80s. Blondie started off the decade with the number one song of 1980, "Call Me." To get in the right frame of mind, we recommend watching the music video for her in Blondie's very cool song, "Rapture." To achieve the Debbie Harry look for this 80s costume, you'll need start with the hair. The wig shown to the right does a good job of approximating the blonde, full and slightly punk nature of her hair. Here are the elements to complete the look:
Hair – this is an important piece.  If you don't have blonde that you can style as shown, try a wig like this.
Makeup – heavy eye makeup, bright red lips, strong blush lines (although her fantastic cheekbones would be hard to replicate) Tip: to achieve the necessary severity with your blush lines, you can hold something straight like an envelope across your cheek, then apply the blush heavily above it. The result is that distinct line of blush on the cheeks – very 80s!
Clothes – Slinky party dress – elegant but fun.
Here's a little mood music from the glamorous Ms. Harry to get you in the right frame of mind, "Heart of Glass" by Blondie. http://youtu.be/WGU_4-5RaxU