Okay, so the 80s didn't exactly bring us General Hospital since the soap actually launched in the 60s, but General Hospital did start setting trends in the 80s that many other soap operas followed. For instance, the idea of the infamous super-couple, like the ones that soaps like Days of Our Lives and As The World Turns currently feature, was started by General Hospital in the 80s. General Hospital also introduced fast-paced plots and nail-biting adventures to the soap opera scene during the decade.
General Hospital is set in Port Charles, New York. Port Charles doesn't exist, of course, but that doesn't matter to General Hospital fans. Another thing General Hospital is famous for is bringing back characters after they've left the show. Dr. Robin Scorpio and Dr. Noah Drake are just two of the characters that left General Hospital and were written back in at a later date.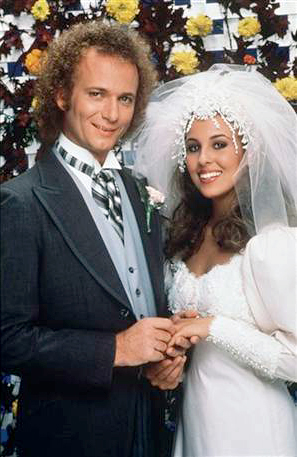 One of the biggest plot lines during this time on GH was the Luke and Laura story, immortalized by the Christopher Cross song, "Think of Laura." After an unlikely beginning (Luke rapes Laura), they end up falling in love and got married on November 17, 1981 in front of 30 million viewers, representing the highest rated hour in soap opera history. Wikipedia offers a fantastic overview of the Luke and Laura relationship, loaded with everything you ever wanted to know about this super couple.
Some of the cast members of General Hospital have gone on to become huge stars, sometimes coming back in short guest roles. Some huge stars that got their start at the hospital include Ricky Martin, Nikki Cox, Mark Hamil, Demi Moore, John Stamos and Janine Turner. Long-standing celebrities are also fond of guest starring on the show. Names like Roseanne Barr, Tom Arnold, Sammy Davis Jr., Morgan Fairchild, and Sally Struthers have all appeared on the show.
General Hospital was faced with cancellation in 1978. Luckily for General Hospital fans, they decided to bring on a new executive producer and the show was once again a huge hit. Just think, if the show would have ended in the late 70s, the soap operas of today would be nothing like they are. (Is that a good or a bad thing?)