Got a burning question you've just got to know the answer to like, Will I marry Scott Baio? Use a cootie catcher! It's all the craze – or at least it was in 1982 when the Like Totally 80s crowd was in the 5th grade.  But, don't let Mrs. Asher catch you with it, or she'll grab it up and you'll have to make a whole new one . . .
Sometimes called a fortune teller or scrunchie, cootie catchers were the arts & crafts d.i.y. version of the Magic 8 Ball. Easy to make, anybody with a piece of paper, a pencil (or neon markers if you want to get fancy), and some origami skills could whip one up. The best part was writing your own fortunes. You could go with the old standards (yes, no, maybe, etc . . .) or you could put those creative writing talents to work and come up with funny or gross sayings. The type of fortunes with in the cootie catcher would determine the type of questions that could be asked.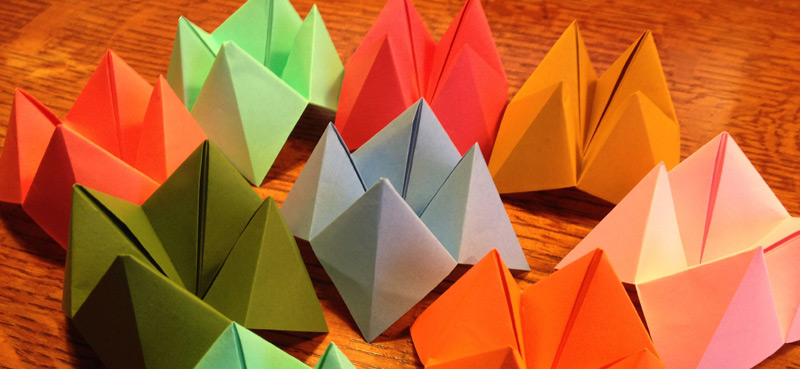 A staple childhood item in the 80s, cootie catchers could be found out on the playground at recess, amongst food and chatter at lunch, during class (for those of you with A.D.D. during 4th hour American History), and pretty much anywhere outside of school. They have even managed to survive through the decades and are still being made by kids of all ages. (Yeah, we know you still make them.) Cootie catchers have even gone Hollywood, landing guest spots on South Park, Arthur, Recess, & most recently on Ugly Betty.  Heck, there is even a book written about them (see right).
With all this reminiscing I bet you've got a ton of new questions to ask. So be the cool kid on your block. Grab some friends and make your own cootie catcher today!
Need to brush up on your cootie catcher skills? Visit:  http://www.momsminivan.com/article-cootie-catcher.html for step-by-step instructions.
Here's Alli of Like Totally 80s with a Step-by-Step how to on making your own paper fortune teller: