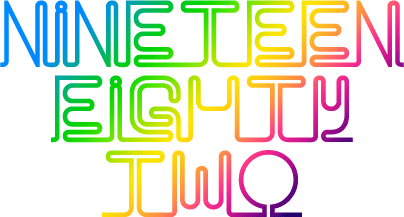 The advances in technology that began in previous years continue to gain speed in 1982 with the release of the Commodore 64 computer and the first CD player by Sony. The shift is so significant that Time Magazine names The Computer as the person of year in 1982. Other big news items include the opening of Epcot Center, the dedication of the Vietnam Veterans Memorial, the Tylenol scare, the death of John Belushi, and the birth of Prince William. It was a great year in movies with ET, Fast Times, the Wall all at the box office. Olivia Newton John had us getting physical and Joan Jett had us loving rock n roll. But, Michael Jackson ruled the music scene and the airwaves with Thriller, which became the best selling album of all in time. 1982 . . . we embrace you with Open Arms.
Jump directly to your area of interest using these links:
History & Politics  .  Music  .  Television  .  Movies  .  Sports  .  People Who Died  .  People Who Were Born
Back to 80s Time Capsules
---
History & Politics
A brutal cold snap sends temperatures to all-time record lows in dozens of cities throughout the Midwestern United States.

Cold Sunday was a meteorological event which took place on January 17 when unprecedentedly cold air swept down from Canada and plunged temperatures across much of the United States far below existing all-time record lows.
On April 6 – A blizzard unprecedented in size for April dumps 1-2 feet of snow on the northeastern U.S., closing schools and businesses, snarling traffic, and canceling several major league baseball games.

U.S. Brigadier General James L. Dozier is rescued by Italian anti-terrorism forces after 42 days of captivity under the Red Brigades.
On March 10 all 9 planets align on the same side of the Sun.
Thriller album by Michael Jackson is released, becoming the biggest selling album of all time in entertainment history.
Israel completes withdrawing from the Sinai peninsula per the Israel-Egypt Peace Treaty.
The Weather Channel (United States) airs on cable television for the first time.
Braniff International Airways was declared bankrupt and ceased all flights.
By Proclamation of the Queen Elizabeth (queen of England & Canada) on Parliament Hill, Canada patriates its constitution, granting full political independence from the United Kingdom.
A rally against nuclear weapons draws 750,000 to New York City's Central Park. Jackson Browne, James Taylor, Bruce Springsteen, and Linda Ronstadt attend.
Longest Luna Eclipse of the 20th century took place on July 6, lasting 106 min.
The first International Day of Peace on Sept 21.
The Tylenol scare is sparked when 7 people in the Chicago area die after ingesting capsules laced with potassium cyanide.
The Epcot theme park at Walt Disney World opens to the public for the first time.
Sony launches the first consumer compact disc player (model CDP-101).
On Nov 13, The Vietnam Veterans Memorial is dedicated in Washington, D.C., after a march to its site by thousands of Vietnam War veterans.
At the University of Utah, 61-year-old retired dentist Barney Clark becomes the first person to receive a permanent artificial heart (he will live for 112 days with the device).
Time Magazine's Man of the Year is given for the first time to a non-human, the computer.
Commodore 64 is released. The Commodore 64 goes on to sell over 20 million computers until 1994.
Falklands War (Apr 2-June 14): Argentina invades the Falkland Islands.
Prince William is born on June 21 at St Mary's Hospital in Paddington, West London.
Back to Top  .  Back to 80s Capsules
---
Music
Physical – Olivia Newton-John
Eye Of The Tiger – Survivor
Ebony And Ivory – Paul McCartney / Stevie Wonder
Centerfold – J. Geils Band
Harden My Heart – Quarterflash
Rosanna – Toto
Eye in the Sky – The Alan Parsons Project
Gloria – Laura Branigan
Who Can It Be Now? – Men at Work
Open Arms – Journey
Don't Talk to Strangers – Rick Springfield
Up Where We Belong – Joe Cocker / Jennifer Warnes
I Want Candy – Bow Wow Wow
Key Largo – Bertie Higgins
Back to Top  .  Back to 80s Capsules
---
Television

Cheers
Starring: Ted Danson, Rhea Perlman, George Wendt, John Ratzenberger, & Shelley Long
The regulars of the Boston bar Cheers share their experiences and lives with each other while drinking or working at the bar where everybody knows your name.
Knight Rider
Starring: David Hasselhoff, William Daniels as the voice of K.I.T.T., Edward Mulhare, & Patricia McPherson
Michael Long is a crime fighter who is seriously wounded during his work. Nursed back to health by a mysterious benefactor, he regains consciousness as a new man with a new face and a new name: Michael Knight. His mysterious benefactor provides Michael with equipment and support so that he can continue his crime fighting work. The most notable piece of equipment supplied, is "K.I.T.T.", a high-performance sports car fitted with artificial intelligence.
Fame
Starring: Debbie Allen, Gene Anthony Ray, Carlo Imperato, Erica Gimpel, Valerie Landsburg, Lee Curreri, Carol Mayo Jenkins, Ann Nelson, & Albert Hague
The Art School was always their dream. They want to dance, they want to sing, to play music, to act but above all they want to live their lives while they are still young and full of energy. Leroy, Danny, Jesse, Chris, Coco and all the others try hard because they know that they've got a long way to go till they reach fame and riches. Fame costs and here (the Art School) is where they start paying for it.
Family Ties
Starring: Meredith Baxter, Michael Gross, Michael J. Fox, Justine Bateman, & Tina Yothers
A couple who were ardently leftwing political activists in the sixties face the problems of raising a family with children who have strongly conservative views.
Cagney & Lacey
Starring: Tyne Daly & Sharon Gless
Two female police detectives cooperate with each other both in their professions and in their personal lives.
Back to Top  .  Back to 80s Capsules
---
Movies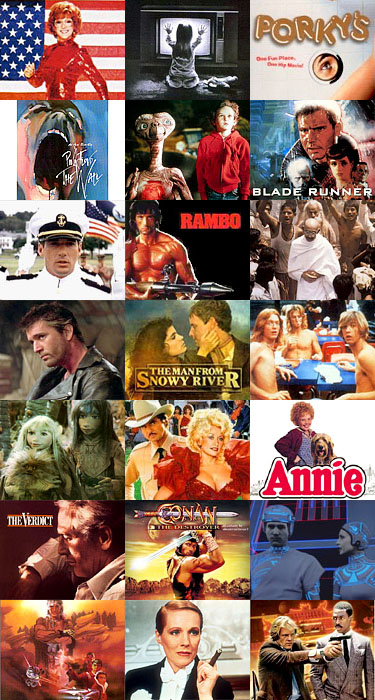 E.T. the Extra-Terrestrial
Starring: Henry Thomas, Dee Wallace, Drew Barrymore, Peter Coyote, Robert MacNaughton, K.C. Martel, Sean Frye, & C. Thomas Howell
While visiting the Earth at Night, a group of alien botanists is discovered and disturbed by an approaching human task force. Because of the more than hasty take-off, one of the visitors is left behind. The alien is found by a 10 year old boy, Elliot. While E.T. slowly gets acquainted with Elliot's brother Michael, his sister Gertie as well as with Earth customs, members of the task force work day and night to track down the whereabouts of Earth's first visitor from Outer Space. The wish to go home again is strong in E.T. & he starts building a device to send a message home. Before long, E.T. gets seriously sick, and because of his special connection to Elliot, the young boy suffers, too. The situation gets critical when the task force finally intervenes. By then, all help may already be too late, and there's no alien spaceship in sight.
Tootsie
Starring: Dustin Hoffman, Jessica Lange, Teri Garr, & Dabney Coleman
An unemployed actor with a reputation for being difficult disguises himself as a woman to get a role in a soap opera.
An Officer and a Gentleman
Starring: Richard Gere, Debra Winger, David Keith
A young man must complete his work at a Navy Flight school to become an aviator, with the help of a tough gunnery sergeant and his new girlfriend.
Porky's
Set in 1954, a group of Florida high schoolers seek out to lose their virginity which leads them to seek revenge on a sleazy nightclub owner and his redneck sheriff brother for harassing them.
Star Trek II: The Wrath of Khan
Starring: William Shatner, Leonard Nimoy, DeForest Kelley, James Doohan, Walter Koenig, George Takei, Nichelle Nichols, & Ricardo Montalban
Admiral James T. Kirk is still in charge of a space fleet, but from behind a desk. Dr. McCoy and Mr. Spock convince him to take on a mission which sounds simple, but with the appearance of the mysterious Khan, things get a little tricky.
48 HRS.
Starring: Nick Nolte & Eddie Murphy
A hard-nosed cop reluctantly teams up with a wise-cracking criminal temporarily paroled to him, in order to track down a killer.
Poltergeist
Starring: Craig T. Nelson, JoBeth Williams, Heather O'Rourke
A young family are visited by ghosts in their home. At first the ghosts appear friendly, moving objects around the house to the amusement of everyone, then they turn nasty and start to terrorize the family before they "kidnap" the youngest daughter.
Best Little Whorehouse in Texas
Starring: Dolly Parton, Burt Reynolds, & Dom DeLuise
Town Sheriff and regular patron, fights to keep a historical whorehouse open when a TV preacher targets it as the Devils playhouse.
Annie
Starring: Albert Finney, Carol Burnett, Tim Curry, Bernadette Peters, Aileen Quinn
In the depths of the 1930's, Annie is a fiery young orphan girl who must live in a miserable orphanage run by the tyrannical Miss Hannigan. Her seemingly hopeless situation changes dramatically when she is selected to spend a short time at the residence of the wealthy munitions industrialist, Oliver Warbucks. Quickly, she charms the hearts of the household staff and even the seemingly cold-hearted Warbucks cannot help but learn to love this wonderful girl. He decides to help Annie find her long lost parents by offering a reward if they would come to him and prove their identity. However, Miss Hannigan, her evil brother, Rooster, and a female accomplice, plan to impersonate those people to get the reward for themselves which put Annie in great danger.
The Verdict
Starring: Paul Newman
A lawyer sees the chance to salvage his career and self-respect by taking a medical malpractice case to trial rather than settling.
Gandhi
Starring: Ben Kingsley
Biography of Mahatma Gandhi, the lawyer who became the famed leader of the Indian revolts against the British through his philosophy of non-violent protest.
First Blood
Starring: Sylvester Stallone as John Rambo
A mentally unstable Vietnam war vet, when abused with a small town's police force, begins a one man war with it.
The Dark Crystal
Another planet, another time. 1000 years ago the Dark Crystal was damaged by one of the Urskeks and an age of chaos began. Now the time of the great conjunction of the three suns is near. If the crystal is not healed now the control of the evil Skekses will last forever. Jen the last of the Gelflings nearly exterminated by monsters controlled by the Skekses starts his dangerous journey to find the missing shard of the crystal. Will he be able to heal the crystal and restore order on the planet?
Conan the Barbarian
Starring: Arnold Schwarzenegger, James Earl Jones, Max von Sydow, Sandahl Bergman, Gerry Lopez, Cassandra Gava, Mako, & Valerie Quennessen The epic tale of child sold into slavery who grows into a man who seeks revenge against the warlord who massacred his tribe.
Tron
Starring: Jeff Bridges, Bruce Boxleitner, David Warner, Cindy Morgan
A hacker is literally abducted into the world of a computer and forced to participate in gladiatorial games where his only chance of escape is with the help of a heroic security program.
Victor/Victoria
Starring: Julie Andrews
A struggling female soprano finds work playing a male female impersonator, but it complicates her personal life.
Blade Runner
Starring: Harrision Ford, Rutger Hauer, Sean Young, Edward James Olmos
Deckard, a blade runner, has to track down and terminate 4 replicants who hijacked a ship in space and have returned to earth seeking their maker.
Fast Times at Ridgemont High
Starring: Sean Penn, Jennifer Jason Leigh, Judge Reinhold, Phoebe Cates, Brian Backer, Rober Romanus, Eric Stoltz, Anthony Edwards, Ray Walston
Follows a group of high school students growing up in southern California, based on the real-life adventures chronicled by Cameron Crowe. Stacy Hamilton and Mark Ratner are looking for a love interest, and are helped along by their older classmates, Linda Barrett and Mike Damone, respectively. The center of the film is held by Jeff Spicoli, a perpetually stoned surfer dude who faces off with the resolute Mr. Hand, who is convinced that everyone is on dope.
Mad Max 2: The Road Warrior
Starring: Mel Gibson
In the post-apocalyptic Australian wasteland, a cynical drifter agrees to help a small, gasoline rich, community escape a band of bandits.
Pink Floyd: The Wall
A troubled rock star descends into madness in the midst of his physical and social isolation from everyone.
The Man from Snowy River
The story of a boy suddenly alone in the world. The men who challenge him. And the girl who helps him become a man.
Back to Top  .  Back to 80s Capsules
---
Sports
Wayne Gretzky of the Edmonton Oilers scores his 77th goal of the National Hockey League season, breaking the previous record of 76. He would go on to score 92 goals that season, which remains the record.
Indianapolis 500: In what Indianapolis Motor Speedway historian Donald Davidson and Speedway public address announcer Tom Carnegie later call the greatest moment in the track's history, 1973 winner Gordon Johncock wins his second race over 1979 winner Rick Mears by 0.16 seconds, the closest finish to that date, after Mears draws alongside Johncock with a lap remaining, after erasing a seemingly insurmountable advantage of more than 11 seconds in the final 10 laps.
Cal Ripken starts the first game of what will eventually become his record-breaking consecutive games played streak of 2,632.
The St. Louis Cardinals defeat the Milwaukee Brewers 6-3 in game 7 to win the World Series.
University of California, Berkeley executes "The Play" in a college football game against Stanford. Completing a wacky 57-yard kickoff return that includes five laterals, Kevin Moen runs through Stanford band members who had prematurely come onto the field. His touchdown stands and California wins 25-20.
Super Bowl XVI – San Francisco 49ers defeated the Cincinnati Bengals, 26–21. Although the Bengals gained 356 yards of total offense to the 49ers' 275, San Francisco jumped to a 20-0 lead by halftime and forced 5 turnovers. This marked the first time in Super Bowl history that the team that compiled the most yards lost. 49ers quarterback Joe Montana was named the Super Bowl MVP, completing 14 of 22 passes for 157 yards and one touchdown, while also rushing for 18 yards and a touchdown on the ground. The game was one of the most watched broadcasts in American television history, with more than 85 million viewers.
New York Islanders win the Stanley Cup.
Gato Del Sol wins the Kentucky Derby with a time of 2:02.40.
Jimmy Connors defeats John McEnroe to win Men's Singles & Martina Navratilova defeats Chris Evert Lloyd to win Lady's Singles at Wimbledon.
Bernard Hinault (France) wins the Tour de France.
Italy beats West Germany 3-1 to win the FIFA World Cup.
Jimmy Connors defeats Ivan Lendl to win Men's Singles & Chris Evert defeats Hana Mandlíková to win Women's Singles at the US Open.
Darrell Waltrip #11 won the NEXTEL Cup (formerly Winston Cup).
Back to Top  .  Back to 80s Capsules
---
People Who Died
Paul Lynde (b. 1926) – Actor – Uncle Arthur on Bewitched, Harry McAfee the befuddled father in Bye Bye Birdie, center square on Hollywood Squares
Elanor Powell (b. 1912) – Actress & dancer known for her exuberant solo tap dancing.
Lee Strasberg (b. 1901) – Director, actor, producer, & acting teacher (taught Marylin Monroe)
John Belushi (b. 1949) – Actor / Comedian / Singer – Known for his work on Saturday Night Live, National Lampoon's Animal House, & The Blues Brothers.
Randy Rhoads (b. 1956) – Guitarist for Ozzy Osbourne
Satchel Paige (b. 1906) – Professional baseball player – Considered one of the greatest pitchers of all time.
Curd (or Curt) Jurgens (b. 1915) – Actor – The Enemy Below, The Longest Day, The Spy Who Loved Me, & Teheran 43
Henry Fonda (b. 1905) – Actor – Young Mr. Lincoln, The Grapes of Wrath, The Lady Eve, The Ox-Bow Incident, Fort Apache, Mister Roberts, War & Peace, 12 Angry Men, The Longest Day, How the West Was Won, & On Golden Pond
Ingrid Bergman (b. 1915) – Actress – Gaslight, Anastasia, Murder on the Orient Express, For Whom the Bell Tolls, The Bells of St. Mary's, Spellbound, Notorious
Grace Kelly (b. 1929) – Actress & Princess of Monaco
Will Lee (b. 1908) – Actor who played Mr. Hooper on Sesame Street
Jack Sigert (b. 1931) – NASA astronaunt who was one of the 3 astronauts on the Apollo 13 moon mission.
Bess Truman (b. 1885) – First Lady of the United States
Marty Robbins (b. 1925) – Country & Western singer
Back to Top  .  Back to 80s Capsules
---
People Who Were Born
Jodie Sweetin – Actress – Stephanie Tanner on Full House
Jessica Biel – Actress – Mary Camden on 7th Heaven, Tenley Parrish in Summer Catch, Abigail Whistler in Blade: Trinity, Dutches Sophie von Teschen in The Illusionist
Thora Birch – Actress – Young Tina "Teeny" Terceli in Now and Then, Jane Burnham in American Beauty, Enid in Ghost World
Danica Patrick – race car drive in the Indy Car Series
Kelly Clarkson – Singer & winner of the 1st season of American Idol
Kirsten Dunst – Actress – Claudia in Interview with the Vampire, Torrence Shipman in Bring It On, Mary Jane Watson in the Spiderman film series
Apolo Anton Ohno – American short track speed skater, won 5 medals between the 2002 & 2006 Winter Olympics, winner of the 4th season of Dancing with the Stars
Tara Lipinski – American figure skater – Won Gold in Ladies' Singles at the 1998 Winter Olympics
Prince William of Wales – son of Princess Dianna & Prince Charles
Hilarie Burton – Actress – Peyton Sawyer on One Tree Hill
Sophia Bush – Actress – Brooke Davis on One Tree Hill
Jared Padalecki – Actor – Dean Forester on Gilmore Girls, Sam Winchester on Supernatural
Anna Paquin – Actress – Flora McGrath in The Piano (won Oscar), Amy Alden in Fly Away Home, & Rogue in X-Men movie series
Brad Renfro – Actor – Huck Finn in Tom and Huck & Mark Sway in The Client
Allison Mack – Actress – Chloe Sullivan on Smallville
LeAnn Rimes – Country Singer
Lacey Chabert – Claudia Salinger on Party of Five
Ian James Thorpe – Australian swimmer known as the "Thorpedo" who has 9 Olympic medal from the 2000 & 2004 Summer Olympics (5 of which are Gold)
Anne Hathaway – Actress – Mia Thermopolis in The Princess Diaries, Lureen Newsome Twist in Brokeback Mountain, Andrea Sachs in The Devil Wears Prada, Ella of Frell in Ella Enchanted
Elisha Cuthbert – Actress – Kim Bauer on 24 & Danielle in The Girl Ext Door
Kristin Kreuk – Actress – Lana Lang on Smallville
Gaby Hoffmann – Actress – as Karin Kinsella in Field of Dreams, Maizy Russell in Uncle Buck, Jessica in Sleepless in Seattle, Young Samantha Albertson in Now and Then, and Annabelle Andrews on the TV version of Freaky Friday.