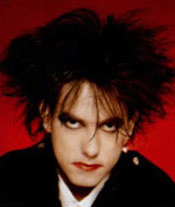 This is a great male costume idea. I mean, nothing's cooler than The Cure, right? This is a particularly good costume if you are the macho type – throw them off guard, show them all your sensitive, inner-poet side. This 80s party costume is . . . Just Like Heaven.

What You Need for This Costume
The other beauty part to this costume is that it is relatively easy to pull together.
Hair – you got to get the hair right – we suggest this wig (and the cool thing about this wig is that is doubles as an Edward Scissorhands wig so you can milk two costumes out of this puppy)
Black eye makeup – liner around the eyes and black eye shadow on the lids
Lipstick – red, red, red
Clothes – black, of course – best choices are a black button down or black t-shirt
Look – you'll want to give some practice to the chin down, sultry and tortured stance that our Mr. Smith has perfected.
Why can't we be you, Robert Smith? http://youtu.be/hXCKLJGLENs

Costume Inspiration